As hundreds of college students nationwide joined the George Floyd protests over the weekend, police used force against some Black students in incidents that some college leaders said are yet more examples of systemic racism and excessive police action.
"This is the exact kind of policing behavior thousands have been protesting," tweeted the Georgia chapter of the National Association for the Advancement of Colored People, comparing the incidents to the police actions that resulted in Floyd's death by "asphyxiation from sustained pressure" according to an independent autopsy report released Monday.
A Black college basketball player was detained by police in Ohio on Friday during a peaceful protest. In Georgia, two Black students were arrested (and later released) after a violent encounter with the police on Saturday. The incidents drew condemnation from college students and presidents as well as university sports officials.
In Atlanta, Georgia, on Saturday, two students from the historically Black Spelman and Morehouse colleges were dragged out of their car, cuffed and arrested after being shocked with Tasers as they were trying to leave a protest site, reported various publications. Police also smashed their car windows and slashed the tires of their vehicle, said news outlets. All of this was caught on live television by CBS 46.
The victims of what Atlanta Mayor Keisha Lance Bottoms called "excessive force" by police were two Black students, Teniyah (also spelled Taniyah in some reports) Pilgrim of Spelman College and Messiah Young of Morehouse College. Spelman's Student Government Association said Young, who some reports said is a recent Morehouse graduate, had an epileptic seizure while in custody.
Bottoms apologized for the police behavior, reported AJC.com. The two officers, identified as Mark Gardner and Ivory Streeter, were later fired. Bottoms said she and Atlanta police chief Erika Shields made the decision to terminate the two officers after reviewing body camera footage of a video that captured the incident, said an Associated Press report. "Really shocking to watch," was how Shields described the video.
"There clearly was an excessive use of force," said Bottoms at a news conference Sunday. "We understand that our officers are working very long hours under an enormous amount of stress, but we also understand that the use of excessive force is never acceptable," Bottoms said during a news conference Sunday evening.
For presidents of the colleges in the Atlanta University Center Consortium, this incident was yet another sign that the behavior of law enforcement requires a radical overhaul. In a statement, the presidents of Clark Atlanta University, Morehouse College, Morehouse School of Medicine and Spelman College, said they support their students' activism on behalf of change.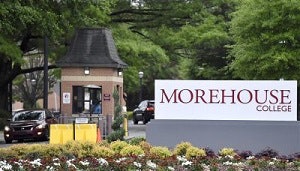 "Incidents like the one last night and the many events of police violence (recorded and unrecorded) leading up to today heighten the urgency of this need for change," the college presidents said. "Students and alumni from Atlanta University Center institutions have historically been a force for equity and justice in the United States and around the world and we support their engagement in the ongoing fight to not only end the senseless murder of people of color at the hands of law enforcement, but to also address the broader tenets of systematic racism and injustice which have too long been endemic in our society."
In Columbus, Ohio, Seth Towns, a Black Harvard College graduate and former Harvard men's basketball player who will next season play for Ohio State University, was detained by police while participating in a peaceful protest. In a video posted in a tweet by a group of Ohio State sports fans called Eleven Warriors, Towns is seen standing and shouting slogans as police reach for his hands and restrain him. He was later released from police custody.
"In a span of just 24 hours, I walked across a Harvard virtual graduation stage into the back of police van alongside other peaceful protestors — both of which I am equally proud of," Towns, who was named the 2017-2018 Ivy League men's basketball player of the year, said in tweets on Saturday. Harvard's online graduation program was held on Thursday.
Towns found strong support both from Ohio State and Harvard sports officials.
Gene Smith, athletic director at Ohio State, commended Towns. "Proud of Seth," he tweeted a day after the incident. Chris Holtmann, Ohio State's men's basketball coach, in a statement said "we fully support our players' right to peacefully protest." Towns' former coach Tommy Amaker, who is head coach of Harvard's men's basketball program, tweeted saying he is "proud of" Towns' actions to further social justice.
Separately, Michael Sorrel, president of Paul Quinn College, a historically Black college or university (HBCU), also said the institution is "proud" of its students who are "exercising your constitutional rights to peacefully advocate for justice and equitable treatment." He further exhorted students to be "careful and smart" and to stay safe.
"If rioting starts, please find a safe place and call us if you need help," Sorrel tweeted. "We know people in your cities who can help you. These are troubled times and your rage is understandable. WE just want you to survive so that we can bring about change together."
Meanwhile, several colleges and university leaders and staff continue to express their anguish at the death last Monday of Floyd, a Black Minneapolis resident, in police custody. Statements came from, among others, Alabama State University; Howard University; University of California; North Carolina A&T State University; Penn State University; Shaw University; Seton Hall University; Cornell University; Delaware State University; University of South Florida; Florida A&M University; University of Louisiana at Lafayette; Duke University; Benedict College; Fresno State University; Morgan State University; Embry-Riddle Aeronautical University; and Harvard University .
Many of them talked about other similar incidents of racism this year and in recent times, and about the deep racial inequality the COVID-19 pandemic has laid bare. Floyd's death comes close on the heels of the shooting death of another Black man, 25-year-old Ahmaud Arbery of Georgia, who was killed by two White men in February while he was out jogging. A little over a week ago Amy Cooper, a White woman in New York's Central Park called 911 on a Black man simply because he asked her to leash her dog. And as of May 20, nearly 23% of reported COVID-19 deaths in the U.S. were African American even though they make up 13% of the population, according to data from the Centers for Disease Control.
The reality of overt and systemic racism is exhausting, said Robert M. Sellers, University of Michigan's chief diversity officer, who wrote a post titled "I Am So Tired" after Floyd's death.
"These times really do raise for me the question of how long must we wait, plan, work, march, agitate, forgive, and vote before we have a society in which all lives matter equally, regardless of race or color?" Sellers wrote. "In my bone-weary tired state this morning, before I even got out of bed, I asked myself why should I continue to fight to try to change a system that has proven time and time again that it simply does not regard me and people who look like me as fully human."