In the age of COVID-19, starting the new fall semester will be like no other for the nation's colleges and universities. In this roundup, we highlight plans that some historically Black colleges and universities (HBCU) have cautiously devised to bring their students back to campus, teach them virtually or do a mixture of both — all during a relentless pandemic in the United States.
Since COVID-19 forced schools to shutter in March, HBCU campus leaders said they've faced difficult decisions and had to make some unpopular ones as they prepared for an uncharted fall. Some have had to furlough or permanently shrink faculty and staff, and enrollment numbers have taken a pandemic-related hit.
For those who are reopening their campuses this month, student and staff safety are paramount, especially since there still is no vaccine to protect against the coronavirus. At Xavier University of New Orleans (XULA), in-person classes begin this month. But as students return to the Catholic university and to a city considered a pandemic hotspot, Dr. C. Reynold Verret, Xavier's president, is clear about what he can do to keep them safe.
"Our thinking was [to make] sure that what we we're offering [on campus] —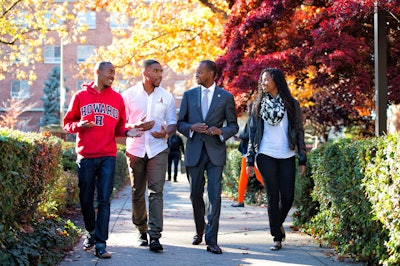 even though we cannot promise absolute safety in a pandemic — would be significantly safer than [life in our] surrounding states and communities," said Verret, a biochemist and immunologist, during a recent virtual townhall hosted by the National Academies and Issues in Science and Technology. "We have to approach this without any illusions and ground it on sound science," he said of XULA's fall plan.
Dr. David A. Thomas, the president of Morehouse College, the only all-male HBCU, called this time in higher education "a pivotal moment."
This is how some HBCUs are planning to step into this new normal.
Howard University
Classes Begin: August 24
Howard University, in the nation's capital, will now hold its fall semester entirely online for undergraduates and will not house students. The decision announced Aug. 7 is a reversal of plans to offer students the option of in-person and virtual classes. It also signals the angst and gravity that campus leaders are facing as they decide how or if they will re-open their institutions as the coronavirus pandemic rages.
"After consultation with our public health faculty experts, District of Columbia officials, University leadership, and monitoring the status of the COVID-19 pandemic locally, regionally and nationally, we have made the very difficult decision to move all undergraduate courses for the Fall 2020 semester fully online, and non-residential. The residence halls will be closed, with the exception of The Axis, which is apartment living," said Dr. Wayne A. I. Frederick, Howard's president, in a statement to his students and the campus community.
His announcement came on the same day that Dr. Deborah Birx, the White House's coronavirus response coordinator, included Washington, D.C. on a list of metro areas where the number of coronavirus cases is quickly trending back up.
Just a week prior, in an upbeat but cautious announcement, Frederick told students that the university's comprehensive re-opening plan had received a final greenlight from District of Columbia government officials. However, for Frederick — who is also a practicing physician — the driver in this and other decisions about the fall semester was the health and safety of Howard's students, faculty and staff.
The decision to go virtual, Frederick added, also impacts graduate and professional students at Howard: "Many of our graduate and professional programs and courses will also be provided online, either primarily, or fully. While many of our health professional didactic courses will be online, the clinical training components will be conducted face-to-face, secondary to accreditation and licensure requirements."
Tennessee State University
Classes Begin: August 17 (virtual) and August 31 (in-person)
Students have the option of taking classes online or in-person this fall, but for those on campus, the first two weeks will be virtual learning. It's part of the Tennessee State University's (TSU) "14-day 'safer in place' policy" for arriving students who will live in residence halls. During that time, food will be delivered to students. After that quarantine period, in-person classes begin on August 31.
Recognizing the financial hardships that many of their students have experienced as a result of the pandemic, TSU announced plans to ease those burdens, while keeping its students enrolled this year:
-No tuition increases for the fall or spring semesters.
-Discounted tuition for students taking all online courses, including allowing full housing and deposit refunds, when they cancel housing and choose to take all online classes.
Florida A&M University
Classes Begin: August 24
Florida A&M University's (FAMU) plans for re-opening and navigating the fall semester include safety details to manage student movement outside of the classroom, and consider what to do in the case of a virus outbreak:
-Resident assistants will be scheduling showers for students to avoid crowded bathrooms.
-In the event of a resurgence of the virus beyond containment or by direction of the State of Florida or Board of Governors, faculty, students, and staff remaining on campus will return to the remote instruction and work as implemented in spring 2020.
Tuskegee University
Classes Begin: August 11
When Tuskegee University reopens this month, Dr. Lily D. McNair, Tuskegee's president, said only freshmen and sophomores will be housed on campus. According to the university's plan, physical distancing will limit available dorm space and upperclassmen will learn remotely.
In a passionate video message, McNair, in July, assured her faculty and students that beginning with the fall semester, it won't be business as usual at Tuskegee. The semester will be compressed. And although its athletic programs and sports competitions have been suspended, "the university will continue to honor all athletic scholarships."
At the tuition-driven institution, McNair also warned that the impact of the pandemic and the shift to online learning will mean a steep drop in enrollment.
"We are preparing for that, but it will be a big hit," she said. "Such a big hit for all of us."
But looking ahead to opening during a pandemic, a hopeful McNair said, "the best-case scenario is that our plans go without a hitch … the pandemic slows down and we don't have outbreaks … and we are able to create a rich learning experience for all of our students."
That plan, she added, will mean "changing the way we do business."
Bennett College
Classes Begin: August 17
In early July, Suzanne E. Walsh, the new president of Bennett, announced that the all-female college will operate remotely for the fall semester. This was a data-driven decision, she said after considering earlier to bring her "Bennett Belles" back to the Greensboro, North Carolina campus.
"This is no joke," she said in a television interview about efforts to prepare for the safe return and matriculation of 266 Bennett students. "Do we have enough access to testing? In the spring we ordered 10 test kits [COVID-19] and we received one. Do we have the ability to isolate and/or quarantine and treat?"
In a letter to the Bennett community, Walsh said, "We looked at dozens of scenarios and determined that there was no way for us to bring students back to campus and keep them safe from the pandemic. When we weighed the benefits versus the costs, there was nothing that outweighed the value of the lives of members of our Bennett family."
Hampton University
Classes Begin: August 10
With COVID-19 cases surging daily across the United States and in much of the South it was "out of an abundance of caution for the health, safety and welfare" that President William R. Harvey announced in early July that he needed to pivot from a decision made earlier to bring his students back.
Starting this month, Hampton will provide remote instruction only for the first semester of the academic year.
"If conditions permit," Harvey stated, the Virginia campus could re-open for in-person instruction in the spring.
The changes also come with some welcomed financial news for "financially burdened" Hampton students and their parents: Tuition and comprehensive fees for the fall semester will be reduced by 15%. This means that the total cost "for 10 to 17 undergraduate hours will be $12,519, a savings of $2,187."
Spelman College
Classes Begin: August 19
In early July, Spelman, the all-female college in Atlanta, announced its decision to offer students a "low-density hybrid plan," with some in-person instruction "for first-year students" only. But before the month was over, it reversed that decision and moved to online learning for all students.
Spelman has provided financial relief for students, discounting the total cost of attendance 14%, according to Jazmyn Burton, Spelman's assistant director of news & communications. Additionally, Spelman awarded a one-time $3,000 grant to students that did not have a full scholarship.
Like Spelman, Morehouse College and Clark Atlanta University also announced on July 20 that they needed to reverse earlier decisions to offer hybrid learning. Citing increases in COVID-19 cases in Georgia, campus officials said that students will continue learning remotely, at least for the fall semester.
Their decision to postpone in-person instruction was not only prompted by the spike in COVID-19 infections in Atlanta, but in many of the states where their students live.
Clark Atlanta University
First Day: August 19
Clark Atlanta University also recently walked back on its previously announced hybrid plan. Instead, it will remain fully online this fall, due to escalating cases in the U.S.
Initially announced on June 30, the hybrid plan intended to reopen campus to freshman and sophomore students for the fall semester, while maintaining remote instruction for junior and senior students.
But now, "with the challenging and rapidly changing circumstances surrounding the COVID-19 pandemic, it has become crystal clear that these plans must evolve again to recognize the newly heightened safety risks associated with COVID-19 in the state of Georgia," wrote Clark Atlanta's president Dr. George T. French, Jr.
In the meantime, French is making sure that his students get a successful start with 4,000 new laptops.
"Many of our students are Pell eligible scholars and, in many cases, do not have the financial support needed to purchase laptops," he said.
Morehouse College
Classes Begin: August 19
Morehouse College will remain fully online this fall, after Morehouse president Dr. David A. Thomas cited a list released in June highlighting more than 30 COVID-19 hotspots in the U.S. The list included states that are home to many Morehouse students.
"The rapid spread of COVID-19 in these states has made it clear that keeping campus housing closed is the best option at this time," Thomas said. "This is a disappointing turn of events for all of us, but I believe it is the best and most prudent path forward. It is imperative that we get this right because there is too much to risk if we don't."
Teaching and learning, beginning Aug. 19, will be remote through the end of finals, scheduled for Nov. 20. If conditions permit, the college will re-open the campus for in-person instruction and "low-density residential opportunities" during the spring 2021 semester, which begins on Feb. 1, 2021.
And although the fall semester will be without sports, Thomas agreed to still "honor all athletic scholarship awards."
This article originally appeared in the August 6, 2020 edition of Diverse. You can find it here.