Several dozen Marquette University students protested and marched through the Milwaukee, Wisconsin school's campus on Thursday, denouncing police brutality and demanding the university do more to address racism, reports the Milwaukee Journal Sentinel.
The hours-long protest began with students blocking traffic near campus for more than 40 minutes,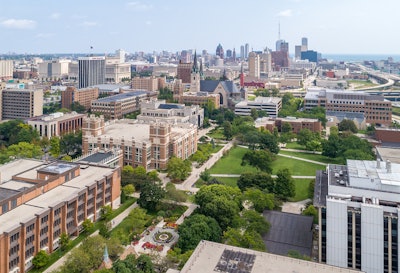 shouting "stop the violence," along with the name of Jacob Blake, a Black Wisconsin man who was rendered paralyzed after a policeman shot him in the back seven times this past week.
During the demonstration, campus police closed the street to traffic and did not try to stop the protest, nor ticket or arrest anyone.
Students then marched to the university's administrative building, where they demanded to speak with university leaders. The students had Dr. Michael Lovell, Marquette's president, write down their demands which included the creation of a "no tolerance" hate speech policy; an annual full tuition scholarship for 30 Black Milwaukee Public Schools students; a Black Student Communal Space; mandatory diversity training; recruitment of more Black faculty and staff; and other funding for Black student life.
University leaders then agreed to further discuss the demands with students on Sept. 3. Currently, about 4% of Marquette students are Black.