North Carolina Agricultural and Technical State University (N.C. A&T) hosted a celebration on Monday, marking the 63rd anniversary of the A&T Four's Woolworth's Department Store sit-in.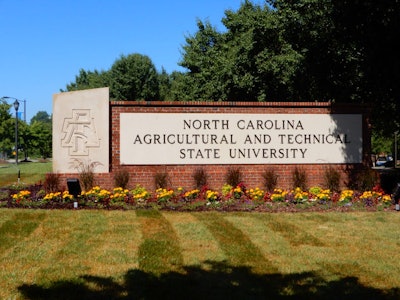 The sit-in by then-freshmen Jibreel Khazan (formerly Ezell Blair Jr.), Joseph McNeil, Franklin McCain Sr., and David Richmond on Feb. 1, 1960, had gotten others to conduct similar peaceful protests against racial injustice in at least 250 U.S. municipalities by the end of February.
McNeil and Khazan are the surviving members of the four. Richmond died in 1990 and McCain in 2014. McNeil, a retired Air Force major general, attended the event, along with family members of the other three. Khazan was unable to attend.
Among the attendees were students from Bennett College and Dudley High School. Students from those two schools, along with UNC Greensboro, had continued the momentum of the sit-in until that summer of 1960, when the chain store changed national policy to equal access to lunch counters.
The program, "Embracing Our Past, Engaging our Present, Imagining Our Future," also included a panel discussion with four former Student Government Association presidents – Marcus Bass, Pamela Buncum, David J. Miller III, and Delaney Vandergrift focused on the social impact of the A&T Four, important strides made since, and remaining challenges.
"It was never about the breakfast [at Woolworth's]. It was about the opportunity – and it was never about eating where white people ate," said Bass, executive director of Advance North Carolina. "It was about the ability to do what any and all of us in here want to do: live and exist freely in this country, anywhere in any building, especially public venues. When we think about the equality, the access, there are still areas where we cannot go. There are still institutions that won't accept our brilliance."
Vandergrift, a social impact manager for MTV Entertainment Studios, said: "Our survival is dependent on our commitment to the movement, to organizing and to making the world a better place. Young people are ready to move forward and take up space. So that means there has to be space for them to sit down. And young people: Take that space. Take it, every single time. Any room that you can get into, go."
Chancellor Harold L. Martin Sr. also awarded N.C. A&T's 2023 Human Rights Medals to Chance D. Lynch, a high-profile civil rights lawyer, and Dr. Safiya U. Noble, interim director of the University of California Los Angeles DataX Initiative and founder of the UCLA Center on Race and Digital Justice.