Gallaudet University, a school for deaf and hard of hearing students, recently honored the 24 Black deaf students and four Black teachers of the Kendall School Division II for Negroes, which operated on the school campus from 1952-1954.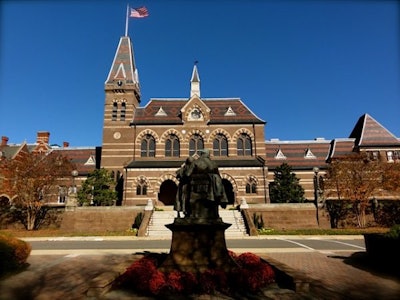 The historic graduation ceremony awarded high school diplomas to the 24 and their descendants, conferred by Gallaudet's Laurent Clerc National Deaf Education Center. The school also designated Jul. 22 "Kendall 24 Day" and made a Board of Trustees proclamation apologizing for the wrongs done against the students.
"Gallaudet deeply regrets the role it played in perpetuating the historic inequity, systemic marginalization, and the grave injustice committed against the Black Deaf community when Black Deaf students were excluded at Kendall School and in denying the 24 Black Deaf Kendall School students their diplomas," the school said in its proclamation.
The school listed and apologized to: Mary Arnold, Janice Boyd (Ruffin), Irene Brown, Darrell Chatman, Robbie Cheatham, Dorothy Howard (Miller), Robert Lee Jones, Richard King Jr., Rial Loftis, Deborah Maton, William Matthews, Donald Mayfield, Robert Milburn, Kenneth Miller, Willie Moore Jr., Clifford Ogburn, Diana Pearson (Hill), Doris Richardson, Julian Richardson, Charles Robinson, Christine Robinson, Norman Robinson, Barbara Shorter, and Dorothy Watkins (Jennings).
Of the 24, five of the six living students – Janice Boyd (Ruffin), Kenneth Miller, Clifford Ogburn, Charles Robinson, and Norman Robinson – attended. The four Black teachers also honored were Mary Britts, Rubye Frye, Robert Robinson, and Bessie Thornton.
"Today is an important day of recognition and also a celebration long overdue," said Gallaudet Roberta J. Cordano, president of the university. "Today is also an important step in the university's ongoing commitment to inclusive excellence, equity and belonging. Acknowledging and owning the university's role in past injustices is a key part of this journey and we must continue to confront our institutional history. The 24 Kendall students, their teachers and their families are central to this. While today's ceremony in no way removes past harms and injustices or the impact of them, it is an important step to strengthen our continued path of healing."
Gallaudet will also construct a memorial for Louise B. Miller – mother of four children, three of whom were deaf – who successfully sued in 1952 for the right of Black Deaf children to attend Kendall School, then a K-12 program on the campus of what is now Gallaudet, amid opposition to integration. This led to the construction of the segregated Kendall School Division II for Negroes on the Gallaudet campus.