Founded in 1970, Hampshire College was created when presidents of four New England colleges (Amherst College, Mount Holyoke College, Smith College and University of Massachusetts Amherst) sought a home for bold, influential ideas
in higher education. Hampshire, a private liberal arts college, prides itself on its personalized
approach to learning — every student designs their own plan of study.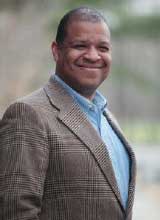 Dr. Byron McCrae, dean of students, leads the Division of Student Life, comprised of 65 full-time and 15 part-time staff members across many departments in the division, including Residence Life, Community Advocacy, New Student Programs, Campus Leadership and Activities, and Outdoors Program and Recreational Athletics, to name a few.
For Hampshire's Division of Student Life, diversity is intimately linked to their understanding of their work with students and their own professional growth. Part of that understanding of diversity revolves around inclusion of
diverse people, opinions and voices. Senior Associate Dean of Students for Residence Life Renee Freedman shares that,
by seeking the voice of diverse students and staff , they are able to "come to more full, complete and creative solutions to problems."
Assistant Dean of Students Melissa Scheid Frantz says because of their roles in assisting students in their social
identity development, it is important that student life staff members continually refl ect on their own identities and how those identities infl uence interactions with others. She continues, "It's important to constantly challenge ourselves in our attitudes, knowledge and skills so we can best serve our diverse student body."
Reflecting on the work of his staff , Dr. Byron McCrae concludes, "We view this work as a manifestation of our
shared commitment to diversity, inclusion and being actively anti-oppressive." This intentional decision to move toward a more just society is part of what makes Hamline's student life one of this year's "30+ Promising Places to Work in Student Affairs."