For anyone who thinks school suspensions of students can't be a life-altering experience, illuminating data may change their minds.
Statistics abounded Wednesday evening during a panel discussion titled "School to Prison Pipeline: Decriminalizing Public Education" held at New America, a nonpartisan foundation in Washington, D.C. Co-sponsored by New America, the National Black Child Development Institute (NBCDI) and the Greater Washington Urban League, the discussion highlighted wide disparities nationally.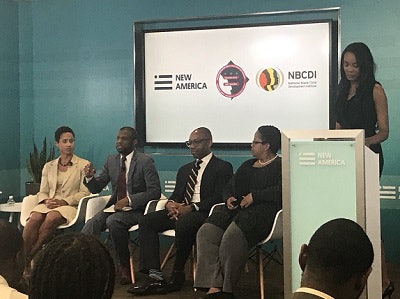 Black and Hispanic students are twice as likely to be suspended, according to data from the U.S. Department of Education's Office for Civil Rights, which tracks suspensions based on race.
During the 2015-16 school year, Black students represented 15 percent of total student enrollment and 31 percent of students referred to law enforcement or arrested.
Students with disabilities represented 12 percent of the overall student enrollment and 28 percent of students referred to law enforcement or arrested.
Black children comprised 18 percent of pre-K enrollment and represented 48 percent of children in that category receiving more than one out-of-school suspension.
Black girls represented 20 percent of preschool students and 54 percent of female preschoolers suspended out of school at least once, according to the NBCDI.
Black boys represented 19 percent of preschool boys and 45 percent of male preschoolers receiving one or more out-of-school suspensions.
In an average school day in the United States, 250 pre-school students are suspended or expelled – meaning that children as young as 3 are being funneled into what has become known as the school-to-prison pipeline.
Dr. Ivory A. Toldson, a professor in the School of Education at Howard University and editor-in-chief of the Journal of Negro Education, warned against a defeatist attitude in the nation's schools, especially pertaining to Black students.
"It's horrible for a city or a community to have so many suspensions," Toldson said. "Because when you put them out in the streets, those communities pay for that. I would rather see them in school."
Suspensions can be a sign of trouble ahead.
Suspended students, some research suggests, are more susceptible to at-risk behavior outside of the classroom than inside.
"Students with two or more suspensions, especially Black males, have a 60 percent higher chance of incarceration," said panel moderator Ameshia Cross, director of policy and external relations at NBCDI.
Panelist Anise Walker, school climate specialist and restorative justice coordinator for District of Columbia Public Schools, added: "Data shows they are building prisons based on the number of suspensions in schools."
Dr. Andre Perry, a David M. Rubenstein Fellow at the Brookings Institution, a research think tank in Washington, D.C. said there should be a ban on suspensions from pre-K through the third grade, "and a lot of our classrooms need more than one teacher."
Educators and thought leaders contend that it is futile to try to accomplish extraordinary things without adequate resources.
The school-to-prison pipeline phenomenon that has been a major topic of discussion in education circles in recent years is defined as a result of policies that encourage a police presence at schools, harsh tactics such as extreme physical restraint, zero-tolerance policies and other automatic punishments that result in suspensions and out-of-class time, and other actions that could increase a student's chances of landing in the criminal justice system, according to Teaching Tolerance magazine, a project of the Southern Poverty Law Center.
Not all suspensions are the result of violent or harmful physical behavior by students.
Some suspensions result from violating dress codes, skipping classes or chewing gum.
While racial disparities in school suspensions long has been a sensitive subject, the current political climate may make it a bit touchier. As civil rights groups accuse the educational system of racial bias, some observers argue that implementation of less-punitive measures of discipline may make schools more unsafe.
U.S. Secretary of Education Betsy DeVos is contemplating abolishing softer disciplinary actions imposed during the Barack Obama administration, leaving some concerned.
When Black students are expelled or suspended, Perry said, "it basically says they have given up on us."
"And if you're not in the classroom," added Tyra Mariani, executive vice president of New America, "then you're not in the game."
Geography may be another factor in the suspension epidemic, according to studies by the Center for the Study of Race and Equity in Education at the University of Pennsylvania.
For example, of 1.2 million Black students suspended from kindergarten through 12th grade in public schools, 55 percent of those suspensions occurred in 13 southern states: Alabama, Arkansas, Florida, Georgia, Kentucky, Louisiana, Mississippi, North Carolina, South Carolina, Tennessee, Texas, Virginia, and West Virginia.
Districts in the South also were responsible for 50 percent of Black student expulsions from public schools in the United States, according to center data. In Georgia, for instance, Black students make up 37 percent of enrollment and 67 percent of suspensions. And in Alabama, Black students comprise 34 percent of enrollment and 64 percent of suspensions.
In 3,022 school districts across the South, in which Black students overall comprised 20.9 percent of enrollment, 100 percent of suspensions in 84 districts were Black pupils.
Perry advocated changing college educational programs for teachers as one way to address the issue.
"There needs to be a fundamental shift," he said. "There needs to be more time to craft more programs for teachers before they enter the classroom. Teachers need more training to deal with these issues. To learn about alternatives for their students. I believe one of the reasons teachers give up on students is because they throw up their hands and say, 'I don't know what to do with little Jamal."'
That conundrum appears to be more prevalent at schools where most teachers and administrators are White while most students are Black.
Toldson suggested an increased emphasis on teachers' so-called soft skills, such as interpersonal and verbal skills, care and nurture of students, cultural awareness in various communities and ability to work with a diverse group of students.
Just as students sometimes require a boost of encouragement. teachers also sometimes need a welcoming shoulder, said Cross.
"We are not here to beat up on our teachers," she said. "They need help with trauma support, counselors – like the students [do]. It's not only about funding; it's also about priorities. We have students dealing with crime issues, gang violence and family dysfunction. And we expect our teachers to play 500 different roles, in addition to their main role they were trained for – and that is to teach."
Plus, there are housing, economic security and law-enforcement issues in some communities.
"If the overall ecosystem is violent for families," Perry said, "it will always be difficult for schools."
Another issue is labeling some educational decisions as implicit bias, which refers to attitudes and stereotypes that subconsciously affect someone's understanding and actions.
"We have to stop referring to racism as implicit bias," Toldson said.
Walker advocated more familiarity to stem bias. "Teachers need to get to know more about their communities."
That can reduce stereotyping and automatic negative assumptions about Black children, in particular.
"We need to move away from punitive and actually problem-solve," said Mariani. "We have to increase support for these students."
More teachers of color may be another way to boost support and nurture of students of color, panelists said.
"We have classrooms with more Black and Brown students than we've ever seen in this country, and less Black and Brown teachers," Cross said. "There is more segregation now than in the 1960s."
Predicted Perry: "I think if more Black teachers are hired, you will see suspensions of Black students go down."
Panelists also recommended:
Parents expecting more information about their children's school environment. "Parents should have climate survey information in their hands," said Perry. "Parents really don't know the climate of their schools. But some schools don't want that information out there."
Implementation of clearly defined standards of behavior. "Teachers sometimes think students automatically know how to act in schools. That's not always the case," said Mariani.
Monitoring of possibly unethical decisions. "Some schools used to suspend kids to record higher performances on testing and academics. It's improvement by deletion, essentially," said Perry.
Addition of more specialists and counselors for students. "We need more teachers, but we also need more mental-health specialists. We need to get the students what they need to be successful," said Mariani.
Student critiques of their learning settings. "Let's have students evaluate their environment at schools," said Perry.
Panelists also suggested a shift from negatively viewing Black students from a "deficit perspective," which hinders their learning and development.
"Schools should focus on reminding students of the things they can do well, instead of emphasizing what students don't do well," said Toldson. "We don't focus enough about the happiness of children in schools."
Perry criticized a related harmful perception in education.
"There is this belief that in order for Black children to learn, they must be punished. To make them compliant, you punish them. That notion is just wrong."