The United States Olympic & Paralympic Committee (USOPC) and NCAA Office of Inclusion have launched multiple programming initiatives for adaptive sports, sports for people with disabilities.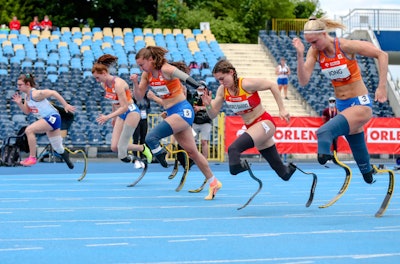 The initiatives will be implemented across the Women's Final Four, Drake Relays and ITA Fall National Championships. This comes as a result of the USOPC/NCAA Para-College Inclusion Project, a program to engage schools with adaptive sports and increase Paralympic sport understanding, awareness, and connection at the college level.
"The USOPC and NCAA Para-College Inclusion Project is monumental because it marks the first time the two organizations have partnered at this level to celebrate and highlight adaptive sports and the amazing experiences of college athletes with disabilities," said Felicia Martin, senior vice president for inclusion, education and community engagement. "The NCAA shares student-athlete stories through its many platforms and championships. We look forward to highlighting the wheelchair basketball exhibitions at this year's Women's Final Four fan events and the Division II and III women's basketball championships in Dallas."
As part of the project, changes will be made in 2023 to highlight women's wheelchair basketball at the 2023 NCAA Division II and III Women's Basketball Championships; award Paralympic track and field champions at the 2023 Drake Relays in April; improve inclusion of wheelchair collegiate tennis at the NCAA Division I Championships in Orlando in May; and launch a new website, Para-CollegeInclusion.org, to help educate and inform people of collegiate adaptive sports.
"The Para-College Inclusion Project is a great example of how we can create new pathways for student-athletes with disabilities on our college campuses and further promote inclusivity at our NCAA Women's Final Four championship and events," said Dr. Jean Merrill, director of the NCAA Office of Inclusion. "We are thrilled to see the progress in our first year of collaboration with the USOPC as this work shines a spotlight on opportunities, the strength of partnerships and the importance of adaptive sports."
A team will then analyze the project's effects and results in Fall 2023, with successful initiatives being examined for scalability.