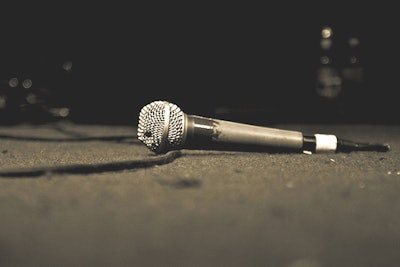 "To be a woman who loves hip hop[,] at times[,] is to be in love with your abuser. Because the music was and is that. And yet the culture is ours."
When Selma director Ava Duvernay tweeted these words as part of a Twitter essay about her experience with the movie Straight Outta Compton, it sparked a discourse about not only the movie and its characters and their relationship with women, but about the broader relationship between hip hop and women.
Hip hop is no different than other vehicles for social and political advancement and expression in the Black community: at best, patriarchal and, at worst, abusive. Or, as Duvernay said, women in the culture often have been seen as "Window dressing at most. Disposable at worst."
Whether it is music, a la hip hop, politics, a la the Black Panther Party, or religion, a la the Black church, Black women have often found themselves subjected to the misogyny of a male-dominated culture within a larger male-dominated society.
"Hip hop is simply unapologetically sharing what happens in other settings, particularly the Black church," said Dillard University President Dr. Walter Kimbrough, who is known as the "Hip-Hop Prez."
"We still have not fully accepted women in leadership in the church, often subjugating them to second class status, even preventing them from being in some pulpits just because of their gender," said Kimbrough, who also teaches a course called "Hip-Hop, Sex, Gender and Ethical Behavior" at the university. "But I think hip hop then allows us an opportunity for a fuller critique of all forms of patriarchy in our communities."
Scholars across the country weighed in on Twitter.
"There's a lot of necessary public convo about [Dr.] Dre and Floyd Mayweather and [domestic violence], yet they still do huge box office numbers. Very telling," said Dr. Louis Moore, a history professor at Grand Valley State University, drawing parallels between the NWA star and Straight Outta Compton subject (and co-producer) Andre "Dr. Dre" Young and the known woman beater and professional boxer.
"You ever relisten to those old Geto Boys albums? Bushwick Bill raped someone on a song," Moore continued, commenting on the overall acceptability of violence against women in hip-hop culture.
But Moore also noted that the acceptance of a violent culture toward women was not limited to music. "Going from [Mike] Tyson, Tupac [Shakur], OJ [Simpson], and even Kobe [Bryant], my generation might not be equipped to revisit [Dr.] Dre like we need to," he said.
"When Robin Givens talked about Mike Tyson beating her, the public continued to label her a gold digger," Moore continued. "You got the sense that the public blamed her, the beauty, for being with the beast. Mike, like Dre and Floyd, continued to do big number[s]. When Mike Tyson went to prison for rape we blamed Desiree Washington. I'm willing to bet there are still people who think he is innocent."
Kimbrough said that, while mainstream hip hop definitely perpetuates an image that is not always friendly toward or supportive of women, "there still remains a diversity of artists" who are sending other messages.
The problem, he said, is that "the mainstream is controlled by a handful of companies that promote what Tricia Rose called the bitch-ho-pimp trinity. This narrative is profitable and that's why it dominates. The collateral damage is the impact on women. During the golden age of hip hop, a variety of voices were mainstream, so everything wasn't misogynistic. Those voices still exist, but it takes work to find them."
As Duvernay pointed out, however, Black women share in the ownership of hip hop, just as the Black men who dominate its culture do. Over the years—and even today—there have been a number of prominent female emcees at the forefront. But their role has changed as hip hop—and, thus, hip-hop culture—has become more mainstream.
"Once corporate America took over hip hop, it killed the female MC," said Kimbrough. "The MC Lytes and Queen Latifahs and Yo Yos gave us strong women asking tough questions and looking at lots of situations."
Today, though, Kimbrough said, "Female MCs have really now migrated into their own video vixens and often perform a ventriloquist effect by spewing the same misogyny as the men. So again we see lots of Nikki Minaj and Iggy Azalea but Jean Grae is unknown."
So where do we go from here?
"More critical analysis is important," Kimbrough said. "Both women and men should spend more time listening to the lyrics and then really understanding the messages. Then we can make more informed decisions about which artists to support. In my class once the students really look at the lyrics and get past the beat, they are able to rethink their musical consumption."