On Thursday, the University of California passed a test when a conservative speaker came on campus and nearly 1,000 protesters gathered. And while there were some arrests, the Berkeley police reported no injuries due to violence and no reports of property damage.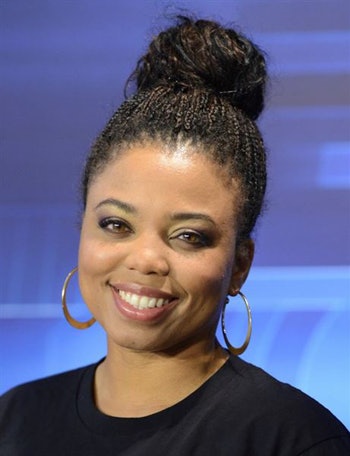 It was a test for what's to come. More right-wingers seeking to make a point on the campus known for its historical radical legacy. UC seems ready to let everyone have their say.
As I've always said, universities don't have a free speech problem. Higher ed has a "how to present free speech events" problem where every interest gets to chime in.
Last week proves that colleges, in conjunction with public agencies, are more than equipped to protect everyone's right to the First Amendment.
But that doesn't mean we don't have a First Amendment crisis in this country.
In our hypersensitive world where the rising tide of voices lifts all coarseness, free speech is still free.
But it comes at a price. You've got to be willing to argue for your right to it and be willing to be heard above the din.
Shrinking violets need not apply. This is the New America of Donald Trump.
Trump, of course, has all the free speech he wants. He tweets it out, as president of the United States and the most powerful man in the world.
That makes his tweet over the weekend particularly noteworthy. He retweeted a video showing him swinging wildly and hitting a golf ball. Cut to the next shot, a spliced in shot of Hillary Clinton tripping and falling as she boarded a plane in 2011 as secretary of state.
Message: Trump hit his target, and knocked Clinton to the ground.
Joke?
It wasn't funny.
This is the president. It comes as a not-so-veiled endorsement of violence against his rival, Clinton.
Given Trump's misogynistic comments of the past concerning grabbing female genitals, it is not acceptable to say it was just a joke.
Last week, Martin Shkreli said his Facebook comment offering a $5,000 bounty for a lock of Hillary Clinton's hair was a joke. A federal judge did not agree and revoked Shkreli's bail, sending him behind bars to a federal lockup in Brooklyn with terrorism and mob suspects to await his sentencing early next year.
Was Shkreli's protected speech? U.S. District Judge Kiyo Matsumoto thought it was advocating violence against Clinton.
So is Trump's tweet protected? Or are we slowly receding into a kind of pre-dictatorial free-speech environment where the president can get away with anything he wants on a tweet?
I'm not saying Shkreli is right. I'm with the judge.
But if Shrkeli is indeed wrong, then what of the president?
He shouldn't get a pass.
His retweet advocating violence against Clinton only demeans the office he occupies.
Of course, he knows exactly what he's doing — he's making everyone question all free speech in America except his own.
An earlier Trump tweet against ESPN host Jemele Hill has sent a signal to Trump's base to begin a wave of criticism against Hill and her network.
What did Hill do?
Hill tweeted: "Donald Trump is a white supremacist who has largely surrounded himself w/other white supremacists."
That's no joke. Then again, given Trump's statements on Charlottesville, his pardoning of Sheriff Joe Arpaio, and actions of his past (including his attack on the Central Park Five), Hill's claim is not a baseless opinion.
But Trump's tweet in response calling on ESPN to "apologize for untruth," is a shallow response and an inappropriate use of his bully Twitter pulpit.
Instead of a tweet, he should address it fully. Beyond 140 words. If he can't do that, then he should simply  ignore it. He's the president. But he is willing to pick a fight with anyone, even the 6pm anchor of SportsCenter. And he's willing to send the message to his followers to give Hill and ESPN hell.
This is the problem. If the wrath of the most powerful office in the land can be directed to Hill and ESPN, well, it can happen to just about anyone.
That's an inappropriate use of power. And just like the Clinton retweet, no joke.
It's the country's real First Amendment problem. It's not what's happening to conservatives on "liberal" college campuses.
It's what's happening in general in American society, when the president tweets anything he wants, and tries to shut down and silence the people he disagrees with.
That's the real First Amendment problem in America.
Emil Guillermo is a journalist and commentator. He writes for the civil rights group AALDEF at http://www.aaldef.org/blog