NEW YORK— Oscar, Emmy and Tony Award winning actress Viola Davis and her sisters said that participating in TRIO programs transformed their lives.
"Upward Bound and the preparatory program made me a citizen of the world," said Viola Davis, whose hit TV series How to Get Away with Murder begins season five next week. "It gave me perspective and it made me feel like my situation and my environment didn't define me."
On Saturday evening, Viola Davis, sisters Dianne Davis Wright, Deloris Davis Grant and Anita Davis and their mother, Mae Alice Davis, were honored by the Council for Opportunity in Education (COE) with its first ever TRIO Family Achievement Award. The award was presented at a gala dinner during COE's annual conference held in New York.
"I always say to people who I mentor, 'The only thing I can do is show you the road,'" Viola Davis said. "The road can be challenging, but you keep going. The road got me out. Once I got out, I saw this wide open field of possibility of who I could become and I didn't see anything that could stop me."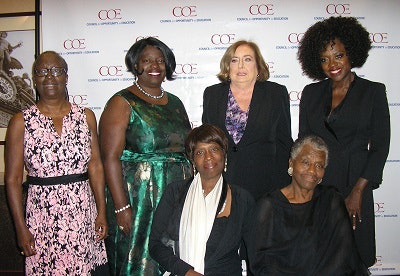 Growing up in Central Falls, Rhode Island, the Davis sisters all loved school. While they were raised hearing about the value of higher education, they didn't know how they would possibly access it. When a guidance counselor at Central Falls High School told eldest sister Dianne about the federally funded Upward Bound college access and preparation program, a positive chain of events was set in motion.
Founded in the mid-1960's, the federally funded TRIO programs include Upward Bound and Student Support Services, both of which the Davis sisters utilized. Designed to prepare low-income and first-generation students for college, TRIO provides tutoring, counseling, mentoring, financial guidance and other support services.
COE is a nonprofit organization dedicated to furthering higher education opportunities for low-income, first-generation students, veterans and students with disabilities. It works in conjunction with institutions that host TRIO programs.
"The Upward Bound program for me was life-changing," said Dianne, a career civil servant who works at the U.S. Department of Agriculture office of the assistant secretary for Civil Rights. Whatever she learned, she taught her sisters who one by one found their way into TRIO programs. The other sisters call her the coach of the team.
In Upward Bound, others also saw their potential, which fueled their drive to excel. Viola recalled phoning a counselor one day when she was feeling extreme anxiety, and he came to her science class, took her in the hall and spoke to her about her feelings.
"Someone is seeing you, that's what we had," Viola said. "When you're seen and heard and valued, you feel differently."
When Deloris, who taught English and drama at Central Falls High School for more than two decades, saw Dianne enter Rhode Island College, that's when she knew things would happen. Upward Bound also ingrained in her a desire to give back, which she has done by returning to the high school they all attended. There were small gestures that Upward Bound and Student Support Services instructors made — like giving students a ride home — that made her feel valued and impressed on her to do the same for others.
During high school, the Davis sisters were able to spend summers on the campus of Rhode Island College, taking classes and getting a sense of what the life of a college student is like.
The college's current president, Dr. Frank D. Sánchez, was in attendance at the COE celebration.
"We got an idea what it would be like in a college classroom and that was really helpful," said Deloris, who today works with Upward Bound. Whenever asked, she would say, "We had support all the time."
Not only did Upward Bound and Student Support Services provide Viola with academic skills for college, it also gave her the confidence to pursue an acting career, which had many disappointments and frustrations along the way.
"The thing about Upward Bound is you had teachers who had that passion," Viola said. "They weren't in it for the money. Because they were in it for the passion, they told us the truth. My first acting teacher told us, 'You are going to fail.' He said, 'You can go on auditions every single day for months and never get a job.'"
"It was great that I was taught failure is a part of the whole journey of life," she continued. "When you fail, you learn, you get back up. It doesn't mean you're not worthy. It doesn't mean that's not what you're meant to do. I learned all of that in Upward Bound."
Anita has returned to college to earn a degree in social work. Being back in school after so many years, while also dealing with multiple sclerosis, has been difficult. An advisor has helped and guided her and she said that even though she is often the oldest person in her classes, she appreciates the opportunities.
This fall, COE is encouraging people to use the hashtags #TRIOFAMILYACHIEVEMENT and #TRIOWORKS and share stories about family achievement through TRIO.
COE president Maureen Hoyler credited the Davis family for bringing visibility to programs like Upward Bound and keeping legislators aware of its importance.
"Alumni of the program have stood up and gone to their representatives and said, 'This program made a huge difference in my life,'" said Hoyler. "It's definitely going to make a difference when a family as strong as this stands up and says, 'This is crucial.' This kind of talent might not ever have been known … unless they had access to Upward Bound."