A recent research report by Bentley University's Gloria Cordes Larson Center for Women and Business (CWB) details the reasons why women and women of color are disappearing from the career pipeline. Such factors include structural barriers and unconscious bias against working mothers.
Using research and media coverage, the CWB found that entry-level women make 20 percent less than their male counterparts, and are 21 percent less likely to be promoted to the first level of management than their male coworkers.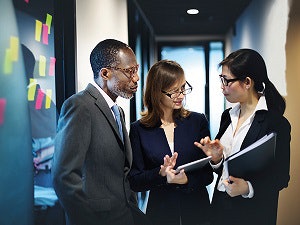 In the report "The Pipeline Predicament: Fixing the Talent Pipeline," the CWB developed a list of initiatives for businesses to utilize if it wants to improve diversity and gender equity in the workplace, according to a Bentley University release.
Those initiatives include:
-Encouraging diverse leadership styles, conduct formal training programs for unconscious bias and encourage men to participate in gender diversity initiatives;
-Provide mentors and sponsors for women and other minorities in the workplace;
-Train and keep managers accountable with ensuring diversity and inclusion goals in the workplace; and
-Establish clear metrics around recruitment, retention, advancement, representation and pay.
"The good news is that studies demonstrate commitment to improved gender representation in most companies, especially at the top. A critical key to success is closing the gap between intent and implementation," said Trish Foster, senior director of CWB. "Employers need to implement top-to-bottom interventions and ensure that everyone in the organization feels accountable for results."