By postal service and online, in amounts small and large, a steady stream of donations is flowing into Bennett College every day as the private, all-women HBCU seeks to raise $5 million in unrestricted funds by February.
More than 2,000 individual and organizational donors had given a total of more than $1 million by last week, said the school's president, Dr. Phyllis Worthy Dawkins.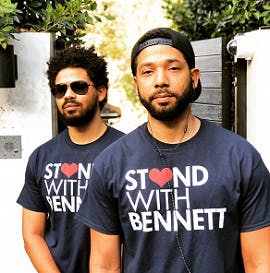 "Every dollar counts," Dawkins told Diverse. "We appreciate the one dollar as much as we appreciate the $10,000 donations. I'm very touched by the number of people that give. I am very optimistic."
Dawkins said gifts from single digits to five figures are flowing in from a broad range of sources: students, alumni, other HBCUS, colleges and universities in North Carolina and beyond, random citizens across the nation and celebrities such as Jussie and Jake Smollett and Rev. Jamal Bryant, who are using their public platforms to drum up support.
Bennett's accreditation – and almost assuredly its fate – hang in the balance. After a two-year probationary period, the Southern Association of Colleges and Schools Commission on Colleges (SACSCOC) decided to revoke Bennett's accreditation because of failure to comply with standards regarding financial resources and stability.
Rather than give up, leaders of the 146–year-old school appealed the decision, buying them time to increase efforts to grow both income and the student body.
A significant part of Bennett's strategy has been to maximize use of social media to raise awareness and dollars in a #StandWithBennett campaign. The effort hit a high point this week when Empire star Jussie Smollett and his brother, actor and chef Jake Smollett, wore "Stand With Bennett" tee shirts in an Instagram post that urged support for the college.
"The legacy must continue," they wrote.
It's a sign of how Bennett backers are using their influence for the cause. One of Dawkins' two daughters, Malia Dawkins Jennings, is close friends with one of the Smollett siblings, Jazz, who was in Malia's wedding. Their relationship led to the Dec. 21 Instagram posts, where the brothers asked their more than 1.3 million combined followers to share the post and donate.
Rev. Dr. Jamal Bryant, one of the nation's most prominent clergy and the pastor of New Birth Missionary Baptist Church in Atlanta, encouraged members of the megachurch to come together to raise $10,000. They raised $12,000, Dawkins said.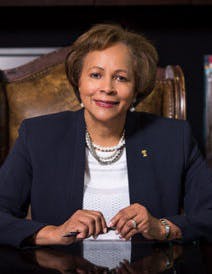 Bryant also took to Instagram, challenging other churches across the nation to respond similarly.
"I want to challenge every church to make a donation by February 12th to support them in maintaining accreditation …we can do this!" Bryant wrote.
A fundraising campaign involving churches is scheduled to kick off Tuesday following a phone call Monday with clergy across the nation, said Dawkins.
The new efforts add to donations made by other local and national organizations, including Alpha Kappa Alpha Sorority, the United Methodist Church, the United Negro College Fund (UNCF) and the National Council of Negro Women.
"It's overwhelming," said Dawkins. "It warms my heart to see so many people supporting Bennett College. It really helps decrease the stress on the institution and on the leadership team and provides hope. I'm amazed by how many people we have touched and how many people have touched us."
In addition to raising as much cash as possible, Bennett is reviewing assets, exploring loan forgiveness and hoping to collaborate on match campaigns that could significantly boost funds raised.
Dawkins said she is meeting again Jan. 9 with community members.
Meanwhile, enrollment, which had steadily declined, is up from about 400 students last academic year to 471 this current year. By the end of last semester, more than 3,000 students had applied for entry in fall 2019, said Dawkins.
In meetings and conference calls in December, current students and their parents "overwhelmingly" expressed commitment to continuing at Bennett, said Dawkins.
And many, she added, offered to help with fundraising.
LaMont Jones can be reached at ljones@diverseeducation.com. You can follow him on Twitter @DrLaMontJones