Plan International USA, a non-profit organization focused on ending poverty, recently received a $12-million donation to fund a new program to help young girls around the world pursue an education and feel safe within their communities.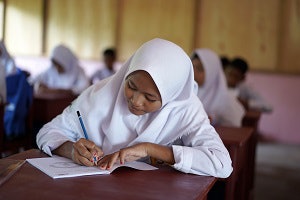 According to the United Nations Educational, Scientific and Cultural Organization (UNESCO), around 130 million girls worldwide between the ages of six to 17 remain out of school. Additionally, 15 million girls of primary-school age, half of them in sub-Saharan Africa, will never enter a classroom.
Not only do many girls struggle to receive an education, they also experience high rates of violence. One in three women are effected by violence worldwide and 35 percent have experienced either physical and/or sexual intimate partner violence or non-partner sexual violence, the World Bank reports.
The Plan International program, GirlEngage, aims to reduce those numbers by partnering with girls around the world to understand their own specific needs and issues faced within their country. Dr. Molly Fitzgerald, senior technical adviser in health at Plan International USA, wants girls to not only be beneficiaries of the program but also be physically part of their own development.
"A lot of organizations are saying that they are working with girls, but we are really taking this to an extreme," she said. "We are actually not just giving a service to it but working with them, partnering with them to co-design, co-create and co-implement solutions that are coming from them."
Plan International is in the process of implementing pilot programs in Senegal and Zimbabwe to help change the lives of adolescent girls ages 10 to 18.
For the Senegal program, the educational outcomes of girls will be analyzed within a rural community over a three-year program.
"Many of the girls that we have already begun to work with in Senegal have shared with us their dreams of pursuing higher education," said Fitzgerald. "We are pushing for them to achieve their dreams, which includes being healthy, educated, safe and a productive contributing members to their communities."
Many girls in Senegal face a number of barriers while trying to pursue an education, one of which is the prevalence of child marriages. Child marriage in Senegal occurs at a rate of 31 percent before age 18 and 8.5 percent before age 15, according to Save the Children's Resource Centre.
"In the case of Senegal, we will be looking at how increasing girls' sense of agency can contribute to keeping them in school, as we know that there is currently an issue of girls dropping out before secondary school," said Sarah Havekost, the senior technical expert in education at Plan International USA.
Though plans have not been laid out as much yet for the pilot program in Zimbabwe, there will also be a focus on education. Through partnerships within a Zimbabwe local community, a school will be designed and planned for girls who are coming from out of the area.
"This is a big barrier for girls in this community and Zimbabwe, as in many places," said Fitzgerald. "This allows for them to have a residential space. [The girls] will be helping to co-design their space and not just the physical space. They are helping us identify what's most important for them, what's most relevant and pertinent in their lives right now."
The overall timeline for the Zimbabwe program is expected to be around two to three years.
In terms of both of the pilot programs, Fitzgerald believes that Plan International USA is benefiting from the input from the girls themselves rather than just relying on statistics.
"We are finding that by talking directly with the girls and using some new approaches, they are guiding it in a way that challenges your assumptions as a program," said Fitzgerald. "It's just a slightly different approach that I think will have a much greater impact."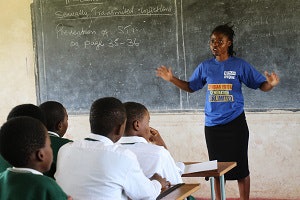 Plan International works with more than 50 countries around Asia, Africa and the Americas, which has led to building connections around the world. Their various networks give the opportunity to find and talk to girls within the various countries and communities, enabling them to incorporate girls fully into the planning and development processes.
"Our hope is that the GirlEngage projects will build girls' sense of confidence, decision-making skills and agency to advocate for their interests and needs," said Havekost.
The recent anonymous donation, which was the largest private gift ever received at Plan International, will help push the programs off the ground beginning this fall.
"We are proud to honor the memory of this philanthropist who wished to remain anonymous by relentlessly working to improve the lives of children and investing in true partnerships with girls so they can take the lead in building their communities and their future," said Dr. Tessie San Martin, president and CEO of Plan International USA.
The goal is to expand the model to other countries and program areas.
"When you improve the life of a girl, you also make changes that benefit her peers, family, community and society," said Havekost.
Though the ultimate goal of GirlEngage is to help girls gain confidence, it could launch girls further so they can pursue higher education opportunities.
"I think there is interest in pursuing higher education, including college for some of the girls," said Fitzgerald. "They have a vision for business, public and civil service and other employment that can benefit from higher education. A critical part of the program is to contribute to enhanced confidence, self-esteem and to be better equipped to problem-solve and set goals for the future.
"For girls who have a vision of success that can benefit from a college education, most certainly this would be part of the expanded perspective we would want to share as we co-design and co-implement the project with the girls."
Sarah Wood can be reached at swood@diverseeducation.com.