Rather than getting career inspiration from her family and friends, Dr. Patrice Harris' interest in the medical field was sparked from watching a television show.
Marcus Welby, M.D. was a fictional medical drama that featured a family practitioner.
"What intrigued me about Dr. Welby was that he not only took care of his patients inside the exam room, but he also had a broader platform and commitment to caring for the larger community to improve the health of his community," said Harris, the new president of the American Medical Association (AMA) and the first Black woman to lead the 172-year-old professional organization.
When arriving at West Virginia University (WVU) as a first-year student, Harris knew she wanted to be a physician but was unsure about which steps to take. After initially choosing to major in medical technology and facing challenges along the way, Harris eventually found her passion in psychiatry.
After earning her bachelor's degree in psychology, Harris stayed at WVU for her masters in counseling psychology as well as her medical degree.
"I absolutely fell in love with psychiatry during my third year of medical school," she said. "I knew that I could combine my love of the brain and my love of psychiatry with my passion for helping children. So I decided to do my specialty training in child and adolescent psychiatry."
Upon completion of her psychiatry residency at Emory University School of Medicine, Harris' career began at her own private practice, where she continues to work to this day.
"My private practice has been in a variety of settings, so I've worked in residential addiction treatment facilities, out-patient facilities, done some work for in-patient children who are in the hospital," she said. "My private practice has been in a variety of settings, and I have to say that I've enjoyed every minute of it."
Harris also got involved in advocacy at both the local and national level after going down to the Georgia General Assembly in Atlanta.
"I had an epiphany," she said. "I learned during that experience that it was important for physicians to be engaged at that level, important for physicians to be able to translate the challenges around the need of physicians and our ability to give the best care to our patients."
She began to advocate for public and behavioral health.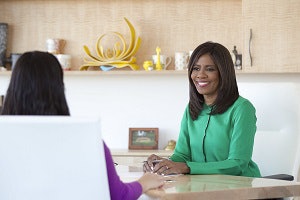 Over the course of her career, Harris has held leadership positions through the Georgia Psychiatric Physicians Association, the Medical Association of Georgia and the American Psychiatric Association.
Harris has served on the AMA Board of Trustees since 2011 and as chair from 2016 to 2017, according to AMA.
Harris also joined the opioid task force at AMA, which focuses on ending the crisis of opioid addiction within the United States.
In addition to her leadership roles, her passion for psychiatry led to roles in higher education. Harris is an adjunct assistant professor at Emory and an adjunct clinical assistant professor in psychiatry and behavioral sciences at Morehouse School of Medicine.
"I love teaching," said Harris. "I love educating in general. So I go back and do lectures and seminars when I can at the medical schools. "
Some of her lecture topics include advocacy, leadership and the integration of mental health care, primary care and public health.
"I've worked in that space, in public health, so I've worked really hard to integrate those three into lectures on children in the foster care system and the effect of child maltreatment on the brain," she said.
Harris decided to run for AMA president and won, becoming the 174th president and the first female African-American to hold the position. In June, surrounded by family, Harris was inaugurated in Chicago.
"Beyond words" was how she described the moment. "I ran against another really wonderful physician, but I was fortunate enough to be elected by my peers and I was thrilled. It was just the experience of a lifetime to be elected."
Harris acknowledged that not only was her election a "wonderful privilege" but also a "wonderful responsibility."
Dr. Clay Marsh, WVU Health Sciences vice president and executive dean, said Harris "defines what it means to be a trailblazer and role model for those in healthcare leadership positions. As a West Virginian, she is also the shining example of a strong advocate for public health policy, for fellow physicians and for the patient."
As president of AMA, Harris aims to improve the healthcare system in the United States.
In order to do so, she hopes to eliminate the dysfunction of health care and barriers that interfere with the relationship between patient and physician. She is also looking to innovate how the next generation of physicians is trained as the healthcare landscape continues to evolve.
Additionally, she hopes to continue life-long learning among physicians.
"Learning doesn't stop with medical school and residency," said Harris. "We continue to learn during our career so we that we can offer the best care for our patients."
Since she was elected, to her surprise, Harris has received a lot of support from resident and medical students.
"I did not expect that," said Harris. "I candidly absolutely knew that people would be excited about the first African-American woman president of the AMA, but it has just won my heart that the medical and resident students see me as an inspiration for their career. I couldn't be more humble and proud about that opportunity."
Dr. Steven Starks, a member of American Psychiatric Association's Caucus of Black Psychiatrists, said he believes Harris will have a great impact on solving diversity issues within the medical field as the AMA's first African-American woman president.
"I definitely think it is impactful and is wonderful that Dr. Harris, specifically as the first African-American woman, kind of understands directly and intimately issues related to access and issues related to representation in the medical workforce," he said. "As a psychiatrist, having that lens puts her in a uniquely dynamic situation at this phase in where we are in time. So, I look forward to her leadership and the work of AMA moving forward."
Sarah Wood can be reached at swood@diverseeducation.com.