Even though her final days as CEO of NACAC have been in a time of uncertainty, Joyce E. Smith has not wavered from the mission of serving the professionals who serve students.
As people shelter in place due to COVID-19, Smith says her departure as CEO of the National Association for College Admission Counseling (NACAC) will be low-key. The association gave her a retirement party at last year's NACAC convention. Now Smith prefers the focus be put on her successor, Dr. Angel B. Pérez.
While Pérez appreciates that sentiment, he is lavish in his praise of Smith and her impact on NACAC and the profession of college admission counseling.
"Joyce really led the organization from this small community of people to now an organization of people all over the world," says Pérez, currently the vice president for enrollment and student success at Trinity College. "She saw the potential for a much larger, more complex organization."
Smith's career began in 1976 with a position in admissions at Kansas State University. At the time, there were approximately 300 students of color on a campus of around 14,000. Her job included going to the Black section of Manhattan, Kansas to recruit, which clarified her understanding of the impact of higher education and crystallized her desire to help others realize educational opportunities.
"I got involved in not only admissions, but I became the graduate advisor for a chapter of AKA [Alpha Kappa Alpha, a Black sorority], started a Black theater group and tried to do things that helped students feel like they belonged at that campus," says Smith.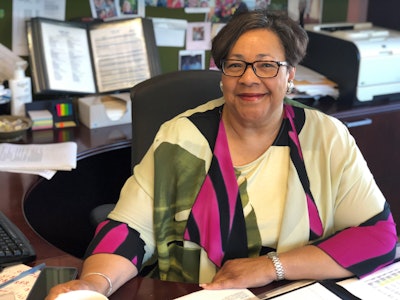 After several years at Kansas State, she went to work at Amherst College, but found she did not like selective admissions and things related to privilege, such as legacies. From there, she became a program service officer at the College Board in New York, where she learned about test development. Then came a position with City University of New York.
Based at Queens College, the college's president gave Smith latitude to develop new things, such as a reception area in the admissions office for kids and parents to come in and sit and talk with someone. She loved CUNY's inclusive mission, but clashed with the central administration's efforts to control all CUNY campuses. In 1991, the NACAC advertised for a job and she applied.
"It gave me a chance to combine my enrollment management and admissions experience and association experience," says Smith.
Growth at NACAC
Smith began as the associate executive director of NACAC, then became acting executive director and was named executive director (now CEO) in December 1996. Since then, membership has increased from approximately 6,000 to more than 15,000 college counseling and admissions professionals. Attendance at the annual NACAC conferences has more than doubled. The National College Fair program hosts 95 fairs across the U.S. each year.
"She has inspired a lot of people of color and underrepresented people to stay in this profession," says Pérez. "As a young admissions officer, I will never forget going to my first NACAC conference and seeing Joyce on that stage, a woman of color, and being so inspired by the fact that she could be the leader of this entire association."
The early mission statement was to "Help the people who help students." As part of fulfilling that mission, Smith says the organization came up with resources and programming for counselors. To this day, NACAC still endeavors to inform and help the grassroots workers who are helping kids and families make good decisions.
Pérez praises how the programming has evolved under Smith's leadership. She created the People of Color conference, which turned into the Guiding the Way to Inclusion conference. "That's a gold standard for a professional interested in diversity issues," he says.
Smith has led NACAC through tumultuous times, but has never sought the spotlight. Prior to the coronavirus pandemic, Smith says the hardest thing she'd experienced in her career was having NACAC's annual conference 11 days after 9/11. Afraid to fly, most NACAC staffers drove from Virginia to Texas. What resulted was one of the best conferences Smith has seen because everyone came together with a sense of unity and purpose in delivering professional development and handling governance.
As of this interview, Smith does not know whether NACAC will be able to hold a physical conference this year, so she is simultaneously engaged in physical planning, hybrid planning and virtual planning. She admits social media and the demands for immediate reactions make it difficult to think issues through in a thoughtful way.
"There are very different kinds of pressures," says Smith. "I have been walking this line of how does my personal opinion dictate my professional responsibilities."
Smith notes that admissions has changed to more of a business focus with magazine rankings impacting the number of students accepted or denied at a given institution and incoming students viewed as income-generators. The landscape has also changed in terms of students' decisions often based on bits of information found online or the desire to go to big name schools.
"Because we're in a place where there are no growth states with students, colleges really have to get out and recruit," Smith says. "I used to feel that it was about making a good match. I don't know that we can do that anymore in terms of the added pressure to recruit the best students and full-paying students."
Leadership amid crisis
This pandemic, Smith says, has put a bigger spotlight on societal inequities, which was heightened by the speedy campus closures. Students of color still have to hustle to get scholarships or gain admission.
"This is such a benchmarking time with the pandemic and its effect on all aspects of society, not just education, not just associations," says Smith, who feels Pérez has the skills needed at this moment in history. "It feels like we're going through a worldwide experiment and there are those who don't learn well in isolation."
Digital issues also apply to NACAC, which typically stages major in-person activities and professional development events. In shifting those to virtual, a lot is lost, such as sharing information during a session and the networking that goes on in between sessions.
The pandemic has created unbelievable change in the midst of what Smith had anticipated would be a well-organized phase-out as CEO, but Pérez says she's been a rock — shutting down the NACAC office, smoothly bringing everyone online within one week's time and advancing conversations about how the organization will have to pivot to an online model for the foreseeable future.
Smith says everyone had to execute a reboot and her efforts simply matched what faculty, counselors and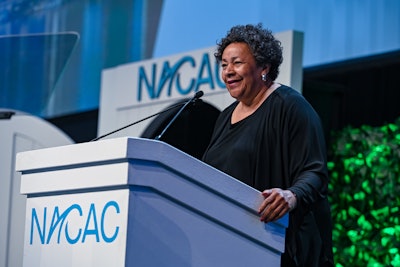 administration at colleges, universities and high schools have done. Even before COVID-19, technology had taken over, Smith notes. Admissions are online, which is fine, but she chafes at the talk of education as a business and students as customers for which colleges compete.
The U.S. Department of Justice (DOJ) filed a federal civil antitrust complaint against NACAC related to the association's code of ethics, saying certain rules restricted members' ability to recruit applicants and transfer students. After a long and costly legal battle, NACAC entered into a settlement with DOJ and has withdrawn three provisions that address offering incentives for early decision, recruiting first-year undergraduates who have committed elsewhere and recruiting transfer students.
"I spent the last two and a half years fighting the Department of Justice on statements that would have been viewed as understood, respected in our membership and kept some order," says Smith.
Despite difficulties, she has enjoyed the challenges and changes since 1991 and has tried to make sure NACAC stays on top of issues. Smith hopes her time will be seen as steady, thoughtful leadership. Her post-NACAC plans, which include moving to a new city and travel, are currently on hold. In time, she hopes to get involved with some community-based organizations and be the type of dedicated volunteer she has so appreciated.
"Her influence," says Pérez, "is greater than any of us can articulate."
This article originally appeared in the June 25, 2020 edition of Diverse. You can find it here.