When Dr. Susan West Engelkemeyer, president of Nichols College, took the reins of that small New England business college, she was acutely aware of just how male-dominated the space was. Higher education administration as a whole, Nichols' executive team and faculty, the world of business education — all of it was largely run by men. So she set out to change that representation of business education and to create a more inclusive campus for women at all levels.
Today, Nichols' leadership team is evenly split between both genders. There's a female majority on the faculty, and the university is proud of its Institute for Women's Leadership, which was founded in 2013.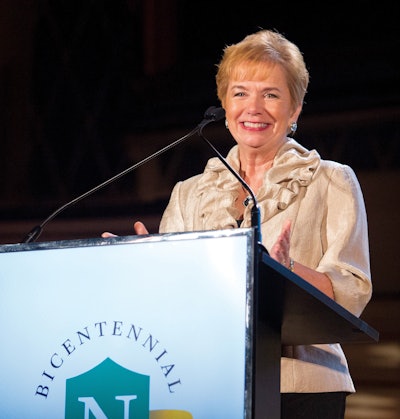 The college president who majored in equestrian studies in undergrad and whose childhood dream was to be a bareback rider in the circus has much to celebrate by way of the legacy she's leaving in a space where she never saw herself growing up.
"There's not exactly a direct path from [equestrian studies] to the college presidency," laughs Engelkemeyer, who says her life and career have benefited from "a lot of serendipity."
"In higher ed, the normal route would be to become a department chair, then a dean, then a president from a provost. I didn't become a department chair nor a provost, because I didn't think I'd be that good at them," she says.
But she did learn that she loved students and loved being in the classroom. After graduating with her bachelor's degree, she started a small business with her husband — they'd purchased an old JC Penney store and made it into a mini mall, operating one store within it and renting the rest of the space out to other businesses. She went back to school to get a master of business administration degree, but, as she was beginning to prepare her business plan, her department chair suggested she teach for a year.
"I decided then to go back for a Ph.D. and make higher ed my career," she says.
She learned she loved the mix of teaching and administration, which allowed her to scale the impact she was able to have. In 2011, she was appointed president of Nichols, and she began to lead a period of persistent growth, by several metrics. Under her leadership, enrollment has increased by 20%, and the college's retention and graduation rates have increased by 30% and 50%, respectively. The institution has seen record-breaking giving, including a $45 million capital campaign and the endowment has increased five-fold.
"We still have a ways to go. Obviously we are still not where it would be fantastic to be, but it's been pretty remarkable," says Engelkemeyer, who is quick to give credit to the staff, saying, "one person can't get credit for things that happen; we have an amazing team of people who are responsible."
Still, she is proud of how far the institution has come in her decade of leadership.
"I look back and think this has really become a much more attractive place for students and really helped their success," she says. "It's been so rewarding to see students who were struggling financially or academically to be able to walk the stage and celebrate graduation."
It is the difference she believes she's made in students' lives that she is most proud of.
"There was one young lady who was excited to introduce me to her parents and talk about how much it meant to them — but also how much it meant to her — to be able to graduate. And those are the stories that stick with you."
Engelkemeyer says there are definitely no full-time positions in the future. When she leaves Nichols at the end of June, she is looking "forward to spending a lot more time" with her four grandchildren, who range in age from 5 to 10. "Right now they really think I'm cool, so I'm looking forward to capitalizing on that," she says, laughing.
Engelkemeyer says she does worry about the future of higher ed —  "I'm nervous because I'm in an institution in the Northeast, and there have been several closures over the last few years," she says. "I know some folks will say we are nonprofit, but we have expenses, so we have to have revenue."
But she hopes that institutions will be able to take some of the lessons learned from the disruption caused by the COVID-19 pandemic — especially that things can't happen without sitting face-to-face in a meeting, she says — and apply them to help continue to adapt to the changing needs of students and industry.
All in all, it has been a career well-spent and a retirement well-earned. And the biggest takeaway for those coming behind her, she says with a laugh, is that "even people that dream to be bareback riders in the circus can find themselves as college presidents."
"I've never regretted my career in higher ed," she adds. "Not to say it's been perfect every day."
This article originally appeared in the June 24, 2021 edition of Diverse. Read it here.