At Georgian Court University (GCU), women leaders are the norm. The private Roman Catholic university boasts a leadership of majority women, with women leading all four of the school's academic schools as deans.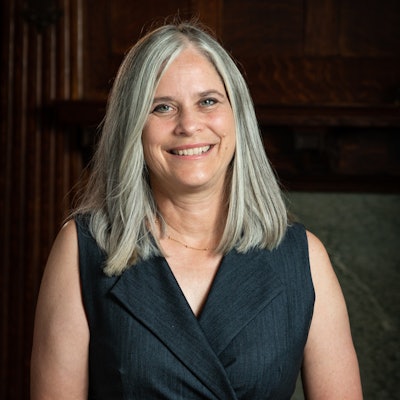 GCU's four academic deans now are: Dr. Mary Chinery, dean of the School of Arts and Sciences; Dr. Jennifer Edmonds, dean of the School of Business & Digital Media; Dr. Teri Wurmser, dean of the Hackensack Meridian Health School of Nursing and Wellness; and Dr. Kelly McNeal, dean of the School of Education.
McNeal was the last to join – she did so in July 2022 – and her appointment solidified GCU's 100% women deanship rate.
GCU, located in New Jersey, also has women in other school leadership positions as well, such as director of diversity, equity, and inclusion (DEI) initiatives; director of career services, the director of financial aid, and the director of global education.
To note, this is not the first time GCU has had an all-women deanship, said Dr. Janice Warner, provost of GCU. Warner, a former GCU School of Business dean herself, said that during her time as dean, all three of GCU's academic deans were women then as well.
Founded in 1908 by the Sisters of Mercy of New Jersey, GCU has been led by women for most of its existence. Increasingly, other colleges and universities are also following in this tradition. Howard University, a historically Black university in Washington, D.C., recently announced that ten women now hold deanships. Back in 2014, the number of women deans was just one.
"Georgian Court's tradition is a concern for women in the first place," said Dr. Joy Smith, associate provost for student support and services and chief diversity officer at GCU. "So this is not something that is really abnormal or different. If you look at the presidents of the institution prior to [current GCU President Dr. Joe Marbach], they clearly have all been women. So women in leadership is not new to our institution by any stretch of the imagination. And because it's already built into the culture, students are expecting that dynamic. ... They expect women to be leaders."
The school went co-educational in 2012, but its concern for women remains. And that concern may even play a role in it having so many women in prominent roles, said Marbach, the first man and first layperson to lead the school.
"[GCU having all its deans be women is] in part an accident because, when we've had these searches for other positions, we've had male candidates," Marbach said. "It's just that we've been blessed with very capable and competent female administrators who have applied for these positions, and they've bene the obvious choice. I wouldn't say it's truly by design but it's certainly something that I think the university's special concern for women is something that might attract more women to actually apply."
GCU's predominantly women-led culture and administration provides its student body – 73% identified as female in 2022 – with role models, Marbach said.
"I think it helps provide some really great role models to our student body," Marbach said. "So they have individuals in our dean position, in our provost position, that they can look up to and can emulate."
Chinery and Wurmser echoed that sentiment, with Wurmser calling this availability for role models "essential".
"Historically, we were a women's college. And so, really most of the role models were women at that time," Chinery said. "And as a result, it's kind of in the water that student leadership really emphasized women's development. It was in our curriculum. I think that is a role model as students as they're making their way through their academics and thinking about what their life will be like in the professional world."
For the past 15 years, more than 50% of GCU's executive and administrative positions have been held by women. And in 2022, women make up 67% of faculty.
This women majority has a sense of camaraderie to it, said Interim dean of students Dr. Suzanne Phillips, who stepped into the role last August.
"The camaraderie amongst the women, the deans, the people I work with day-to-day, is just a wonderful experience." Phillips said. "So for me, this is a great experience to be able to talk with other women who understand what your issues are, what your challenges are, and are so eager to assist and offer advice."
Being able to work with so many women has been "awesome," Edmonds added, especially because that's not usually the case in the world of business.
"The case is that senior leadership in business is not mostly women. It's not half women," Edmonds said. "So to be at a conference where there's so few women, especially women of color, you feel it, you notice it, you don't necessarily feel like you connect with people the instant you get in the space.
"But Georgian Court is so much the opposite of that, because I do feel like I have people that are walking in my shoes on campus. And I think, very often, when you go places in your role, you're in only one in your role," she added.