The U.S. Coast Guard Academy has banned Nichols College President Glenn M. Sulmasy from its grounds because Sulmasy reportedly exchanged sexually suggestive texts with an academy student during his time teaching there, Telegram & Gazette reported.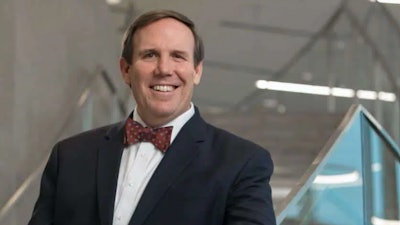 According to CNN, Coast Guard investigators found more than 1,600 texts – most of them sexual or flirtatious – between him and a young female student.
"At best, he offered to give high grades and show favoritism in class in exchange for sexual banter, and at worst, he actually did so," according to an internal Coast Guard prosecution memo.
Sulmasy is currently on voluntary leave from his role while Nichols investigates his tenure at the Coast Guard Academy.
"Every member of the Service has the right to a safe workplace devoid of harassment, bullying, assault, discrimination, and retaliation," Rear Admiral Michael Johnston said in a statement. "If any current or former member of the Academy community has experienced any of these behaviors while at the Coast Guard Academy, I encourage you to report it."
The allegations in the CNN report had not previously been reported to the Coast Guard, Johnston said, adding that they have now been referred to the Coast Guard Investigative Service.
Sulmasy has previously been involved in another controversy, where he was accused of mishandling a sexual assault case as a Coast Guard Academy academic attorney.