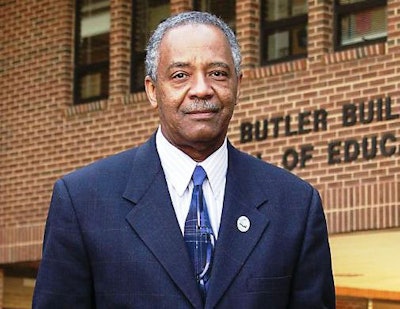 When academic leaders across the nation talk informally about institutions noted for innovative academic programs and securing choice internships and jobs for students and faculty, Fayetteville State University (FSU) in North Carolina isn't on the radar.
With a new, evolving focus on cybersecurity and disaster management, FSU, a historically Black university with an enrollment of just over 5,000 students, is hoping to change those conversations, boost its standing in the academic community and secure itself for this century by helping develop a relevant workforce for the state, says Dr. James A. Anderson, FSU's chancellor.
For sure, the strategy is running against strong headwinds.
Like most institutions across the country, FSU has endured several years of painful budget and spending cuts ($9 million in the most recent 12 months), largely attributed to falling state financial support and declining enrollment.
FSU is dealing with the reality that all faculty are not on the same page regarding the new strategy. Externally, it is facing the fact that it is a late arrival on a stage long occupied by some of the biggest names in higher education defense contracting starting with the Massachusetts Institute of Technology (MIT).
To address those realities and champion its new thrust, FSU has created a Center for Defense and Homeland Security (CDHS). The center, started on a seed money budget of $250,000 and run by Dr. Curtis Charles, senior associate vice chancellor, draws on a core group of 20 faculty engaged in teaching and research. They have become the initial vehicles for change at the university.
Anderson said he hopes to supplement that cadre of academicians with military veterans returning from service. Many will be looking for work and already have the skills FSU needs for its new thrust.
"We can use them on the teaching end," Anderson said.
The CDHS has also recruited from other institutions a short roster of veteran educators with experience in identifying and securing federal grants and research contracts. In addition, it has organized a broad-based advisory board made up of people who work in its areas of focus in government and private industry.
The center is working to strengthen its partnerships with the state's major research institutions and plans to hire a person to represent the university in Washington, D.C., working federal agencies to enhance its efforts to identify and secure federal research money.
In March, FSU became an associate member of Oak Ridge Associated Universities, a consortium of universities that helps create partnerships between the federal government, private industry and higher education to facilitate grants, major contracts and faculty and student internships.
Meanwhile, FSU is courting the federal Department of Homeland Security, hoping to win designation in 2014 as one of a handful of DHS's Centers of Excellence. There are no HBCUs serving as centers.
"When you look at HBCUs, traditionally we don't address these types of issues (defense and homeland security)," Charles said, hastening to add that the objective is not to turn FSU into a military research facility. "We are trying to raise the level of research … by addressing issues of importance to the country." In so doing, FSU positions itself to secure millions of dollars in contracts and grants to pursue a variety of academic projects and, at the same time, offset the steady losses in state funding. The goal, Charles said, is to "transform" FSU into "a competitive institution."
The new thrust is beginning to pay dividends.
FSU has landed student and faculty internships this summer at MIT's Lincoln Laboratory and the Oak Ridge National Laboratory, a first for FSU. It's courting the brass at the nearby Fort Bragg Army base, long mutually ignored despite being close neighbors geographically.
Beyond the Catchphrase
Like most HBCUs seeking to find relevance and financial support in the new century, FSU is spending a lot of energy focusing on STEM (science, technology, engineering and math).
FSU, however, has expanded the umbrella of the buzz phrase to be STEMS, said Charles, touting the continued importance of traditional social science courses in a defense and homeland security academic strategy. The social sciences help students gain a better understand of human behavior, he said.
"We gradually want to develop this higher level of both sciences [STEM and STEMS]," said Charles. "The problems of the world cannot be solved by one."
"Had we been investing more, longer in the history of the Middle East, we would have been able to do more," Charles said, offering an example of the importance of history, geography, languages and the study of human behavior alongside science, technology, engineering and math.
For sure, it could be some time before the university is able to determine the payoff of this new strategy. For now, it is celebrating the early results, like the new internship opportunities.
"It makes me more competitive by having Oak Ridge on my resume," said 21-year-old senior Lewis Williams, an FSU math major engaged in a paid 10-week internship at the federal research facility in East Tennessee.
"It's better preparing me for research," said Williams, who eventually hopes to attend MIT. His past internships were on campus, he said. While crediting them for their value, the Oak Ridge experience further opened Williams' eyes to the potential in his field and the practical implications of his work.
At MIT's Lincoln Laboratory, which has hosted interns from Howard University and Morehouse College in the past, recent FSU graduate Adrian McClain is among the intern ranks this summer. In addition to his "mission area" work as an intern, McClain is learning much more.
"It gives them a greater understanding of national security issues and how a government lab works," said John Kuconis, a retired Air Force pilot who has been executive officer for the director at MIT's 61-year-old Lincoln Laboratory, the nation's premier Department of Defense federally funded research lab.
Charles, an MIT alum from the 1980s, acknowledges that the challenges facing his assignment are monumental. Still, he said he gets his persistence in helping FSU "transform" and persevere from the fact that today's higher education landscape at MIT and other major research institutions is much like it was when he was an MIT student.
"They still need brown students," Charles said, referring to the absence of more people of color in the sciences.
As for FSU being relatively new on the scene and a small fish in a very big pond (MIT alone, Charles noted, gets tens of millions of dollars a year in federal defense research grants), he refers to an ancient Greek proverb in voicing confidence in FSU's new venture:
"After slaying the Minotaur in Crete, the hero Theseus sailed back to Athens in a well-worn ship. As each plank decayed, it was replaced by new and stronger timber, until every plank in the ship had been changed. Was it then still the same ship? And if not, then at what point — with which plank — did the ship's identity shift?"
"We're not losing our mission," Charles said. "But, to be relevant to legislators and funders, we must address compelling national issues. We have the potential to be a major player," he said. "We want to be relevant to the next generation."