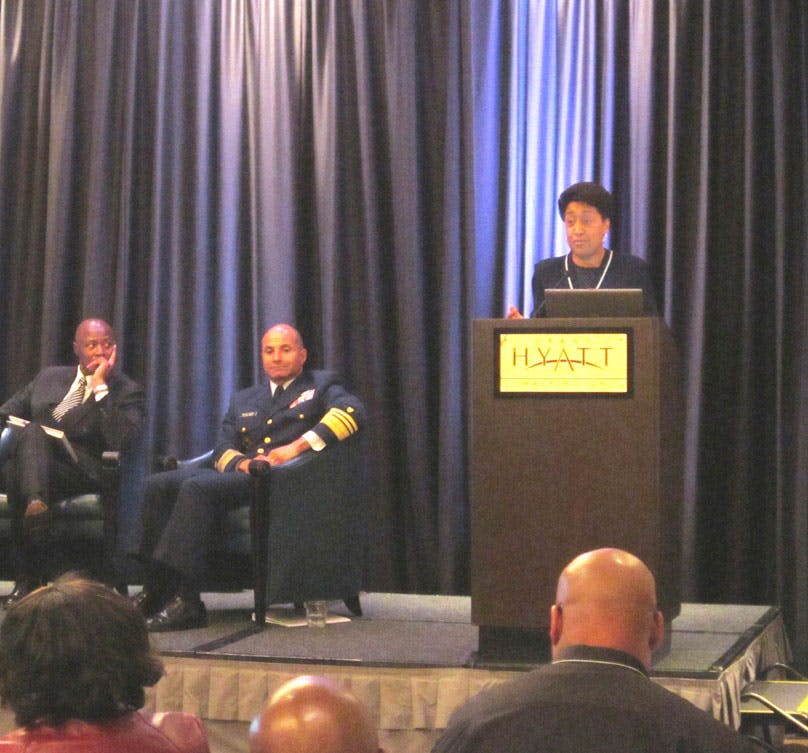 WASHINGTON – To win federal grants and contracts, college leaders must gain a realistic sense of their institutional capabilities, hire faculty with a vision to do more than just teach, and be willing to remedy any shortcomings identified in their proposals.
It also pays to "spy" on competitors and research the mission of the agency from which funds are being sought.
Those were among the tips that federal administrators and university leaders offered Wednesday during the final day of HBCU Week at a panel discussion titled "How to Effectively Engage the Federal Sector."
"There are opportunities out there," said Leslie Pollard, president of Oakwood University in Huntsville, Ala., which he described as the "Silicon Valley" of the South. "But it's going to take for us as HBCUs a certain kind of self-assurance that's grounded on a realistic assessment of what our capabilities and capacities are."
Wednesday's session was one that featured a series of highs and lows. One minute a university president beamed with pride about a large federal grant that his or her institution had been awarded. The next minute a series of federal employees—including those who were alumni of HBCUs and passionate about giving back to the HBCU community—were complaining about how HBCU leaders were unresponsive to their outreach efforts.
One of the most curious things about the session was the fact that more than half the audience, which wasn't very large to begin with, was made up of federal employees themselves. Mostly everyone else sat way in the back. This writer, the speakers and their entourages sat in the front.
Some of the most candid and practical advice came from Valerie Veatch, Senior Acquisition Technical Advisor within the Office of Acquisition Operations at the Department of Veterans Affairs, who sought to dispel various myths and misconceptions about what it takes to win a federal grant or contract.
"A lot of people come in and say, 'We're a wonderful organization, we've been around for 70 years, we know general so-and-so,'" Veatch said. "The question is: Who have you worked for lately? What was the scope of the contract? Whom can we call to see if you actually do good business?'"
Of paramount importance is being able to help the agency achieve its mission.
"They can think you're wonderful people, but if you cannot support the mission, it's not a good marriage," Veatch said.
Veatch advised contract- and grant-seeking institutions to get familiar with an agency's mission as well as look up successful proposals and bids submitted by other institutions, which she suggested as a legal way to "spy" on the competition.
"You need to research the mission. You need to research your competitors," Veatch said. "How many of you, when you're getting ready for a grant, 'FOIA' the last successful grant that was put in?" she asked, using the acronym for Freedom of Information Act request as a verb. Few, if any, hands went up.
"It may give you an idea of what the agency valued last year," she said.
Veatch also stressed the need to understand evaluation criteria for grants and contracts.
"Many people think because they know the general or they're a great institution they can turn in a proposal that doesn't hit those standards," Veatch said. "You will lose every time."
Harry L. Williams, president of Delaware State University, reiterated the same point, using an $11.2 million NIH grant his institution found out on Wednesday that it had won as an example. The grant involves work in the area of neuroscience.
The first time DSU submitted its proposal to NIH, Williams said, it got rejected.
"They said we need to do XYZ, so we did XYZ," Williams said. "Follow the directions. That's it. After they lay it out, it's not that hard. It's just a lot of work."
Dr. Mary Evans Sias, president of Kentucky State University, said it's important to get faculty engaged in seeking to secure grants.
"Once you can light that fire and get faculty members interested and get a few grants, you get other people interested in the competition of what is happening," Sias said.
Wednesday's luncheon featured a speech by Pulitzer Prize winning author Isabel Wilkerson, who discussed insights from her recent book, "The Warmth of Other Suns: The Epic Story of America's Great Migration."
Wilkerson made the case that the Great Migration of African-Americans from the South to the North was unique in that no other group in American history moved from one region to another in order to be recognized as citizens of their native country.
She also said many children of the Great Migration—from jazz artists to novelists—reshaped the landscape of American culture in ways that they never would have been able to if they had been forced to endure life in sharecropper families under the stifling racial subjugation of the Jim Crow era of the South.
Many people left the South for uncertain lives in the North not knowing if they would ever see their loved ones again.
"There was no Skype. There was no e-mail. There were no cell phones. There was not even reliable long distance telephone service, and, even if there had been, many of the people they were leaving did not have a telephone," Wilkerson recounted. "The very next time they might hear of anything of the person who raised them would be a telegram saying their father had passed away or their mother was ill, and, if you want to see her alive again, return home quickly."
"That was the magnitude of sacrifice that was made in all of our families just for us to be here," Wilkerson said. "That means we have a beautiful burden and that is to make that sacrifice mean something."