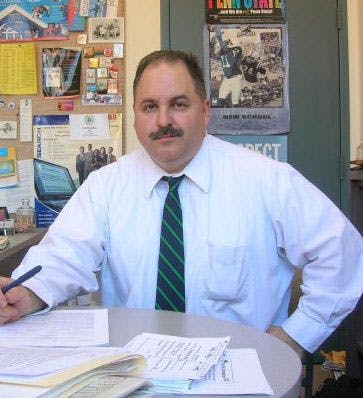 Irish dancers entertained students and faculty at Penn State Erie, The Behrend College, as part of the school's monthly Rhythm of Life series. Upperclassmen discussed race relations, harassment and other serious topics in the Circle of Oppression. These are among the programs Andy Herrera either helped create or established during his tenure as the school's director of educational equity and diversity programs within the school's student services division.
Herrera, who enters his 10th year at the Penn State campus, also known as Penn State Behrend, helps Ariana Rosario-Fuste "stay busy" by taking notes for disabled students and giving campus tours for international students.
"He really respects the eagerness to learn about all the cultures in the world and in the student body," said the 19-year-old sophomore biology major who transferred to Penn State Behrend last semester from the University of Puerto Rico. "It is definitely nice to have a faculty member at Penn State [Behrend] who speaks Spanish. Andy understands what students go through coming from a different nation and with a different culture."
Under his leadership, Herrera wants to ensure diversity is presented on a campus with an 11-percent minority population that also had the third largest student population last year among all 20 Penn State campuses.
Herrera coordinates the school's Minority College Experience and Women in Science and Engineering Program (MCE/WISE). For six weeks in the summer, high school students from the Erie region take a class on campus with an emphasis on science and engineering. The students receive a stipend for lunch, free books and chat with professionals in those fields.
The best part, Herrera says, is that a student obtaining a "B" or better will obtain a full scholarship.
New students who attend Penn State Behrend receive a diversity card that describes the university's commitment "to [creating] an environment that promotes respect for differences while fostering caring relationships and cross-cultural understanding and appreciation."
Lesbian, Gay, Bisexual and Transgender students are now aided by the school's three-year-old Safe Zone program. It incorporates workshops, training and panel discussions where students can "speak out" about their lifestyle. Some staff members post rainbow stickers on their office doors and windows to let students know it is a "safe zone."
"Students from a LGBT background at time s… have been harassed. We must provide a safe and diverse campus so all students get a good education," Herrera said. "Students should have some fun, too. That makes a great campus environment."
Herrera was born in Venezuela and moved to Florida in the 1980s. He graduated from Western Michigan University in 2000 with a bachelor's degree in Spanish and minor in history. He then got his master's degree in education law from NOVA Southeastern University in 2010.
Herrera has received numerous awards, including the Outstanding Diversity Award in May for assisting Penn State Behrend senior Jinghua Liu to create a website where photos of Chinese and Americans hold signs asking questions about the other's culture. The "photo-question exchange project" aims to enhance knowledge and friendship between both nations. He was chosen among three other employees and a group affiliated with student services from all 20 Penn State campuses to receive the award.