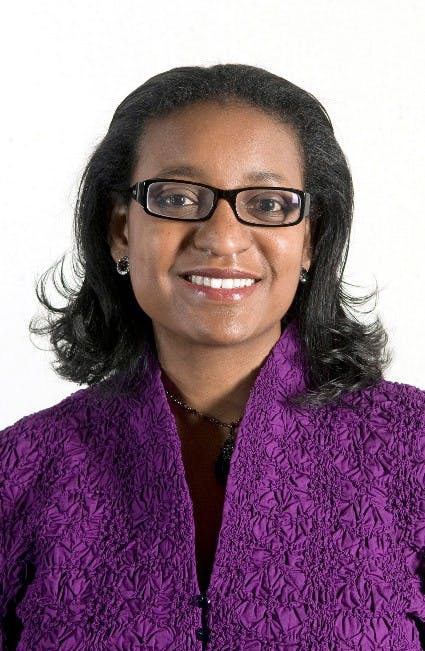 WINSTON-SALEM, N.C. — "By Special Request," the current exhibit at Winston-Salem State University's Diggs Gallery, was not originally on the schedule. In fact, the gallery was set to close for a renovation. But when the work was delayed, gallery director and curator Belinda Tate had an idea. By calling on colleagues in her field and obtaining input from WSSU faculty, she and her staff pulled together an exhibition that will remain until the renovation begins later this year. The result is a short-term, thought-provoking exhibit with some big impact art.
Tate routinely confers with faculty from the College of the Arts and Sciences and others about how the gallery can be a relevant resource for students. Students in English, photography, print-making, art history, animation, history, religion, African-American studies, African studies and other courses regularly visit Diggs Gallery to expand their knowledge of culture as well as artistic techniques. For "By Special Request," Tate visualized art from a variety of cultures and media.
"My challenge was to condense all the varied requests into a cohesive selection of works that met a wide range of curricular needs," she said. "But that's what we do at Diggs, we are always supporting faculty in the teaching process." Though the room is teeming with works from a variety of countries and media, the colors and organization of the art are inviting, not overwhelming. "A good exhibition must always flow visually and intellectually," said Tate, looking at the diversity of the art. "Despite the fact that the work spans 150 years and four continents, there is a rhythm and synergy here that allow students to extract multiple layers of meaning from the works."
The colorful exhibit, which is free to the community, features 69 works by 56 American, African, Haitian, Japanese and European artists. Of the works, three-quarters were borrowed from private collections like that of Cheryl Sutton from Cary, N.C. The works offer historical perspectives and cultural diversity. From ceremonial masks to lithographs, the exhibit spans the gamut. Intricate raffia mats were created by members of the Kuba ethnic group in Africa. Traditionally, men wove the raffia mats and women embroidered them. An airy Impressionistic work by Andrew Turner entitled Duet (1999) depicts two African-American children side-by-side playing a duet on a piano, their backs to the viewer.
The exhibit includes Praying Deacon (1999), a tranquil, but powerful wood carving by Carolinas sculptor M. Leon Woods. Woods' carvings are inspired by the traditional African techniques demonstrated to him by Bruckner Dogbe of Ghana and the late Lamidi Fakeye of Nigeria while he studied and worked at WSSU. Woods graduated from the fine arts program at Winston-Salem State University and has exhibited his work throughout North and South Carolina.
The exhibition also includes works by African-American masters John Biggers, Elizabeth Catlett, Jacob Lawrence, Hughie Lee-Smith, Lois Mailou Jones and David Driskell. Three prints in the show by North Carolina native Biggers depict African-American and African cultural themes that are reminiscent of his mural techniques. Biggers, known internationally for his murals, was both an artist and long-time educator in Texas, whose work has been exhibited throughout the country. Much of his work reflects his spirituality.
David Driskell's lithograph, Spirits Watching (1986), is a stand-out in the exhibition. His thoughtful work fosters a rich dialogue about art-making, technique, history and spirituality. Driskell has been a practicing artist since the 1950s, and his works are in museums throughout the world, including the National Gallery of Art, the High Museum of Art and the Yale University Art Gallery. The University of Maryland established the Driskell Center in his honor and he received the National Humanities Medal from President Bill Clinton.
Tate also chose to display many of the gallery's works by Haitian artists, including A.B. Jean. Calixte Henri, Murat Brierre, Sisson Blanchard, Pierre Augustin, Joseph Jean Laurent and Gesner Armand. Haitian works are known for their vivid colors and folk-art style. The collection at Diggs, donated by New York art patrons John and Vivian Hewitt, offers a mix of still life, landscape and other paintings that represent Haitian history and spiritual practices. Also of note is a woodblock by Utagawa Kuniyoshi, considered one of the last masters of the Japanese ukiyo-e style of woodblock prints and painting. Kuniyoshi, who died in 1862, is known for his landscapes and art featuring women, cats and mythical animals.
Another highlight of the exhibit is a distinctive collection of black and white photographs of well-known Winston-Salem brick-maker George H. Black and his family. The photos were taken by photographer Susan Mullally. As a boy in Winston-Salem, Black hauled bricks for a White brick maker. Later he started his own brickyard and went on to earn an international reputation for his traditional 18th- and 19th-century craftsmanship. At the request of the State Department in 1970, 91-year-old Black journeyed to Guyana to teach his age-old craft to villagers of that country. These historically significant photographs are a sharp contrast to the glossy contemporary works by Hank Willis Thomas and Sheila Pree Bright and the cool iris print by Gordon Parks.
Other works on display are paintings by Walter Edmonds, Preston Sampson, Vandorn Hinnant and Eric McRay of the U.S., prints by Malcolm Morley of England, Auguste Brouet of France, drawings by Artis Lane of Canada, contemporary African art by Hamid Kachmar of Morocco, Sokhaya Charles Nkosoi of South Africa, and  Kerima Ahmed and Samuel End of Ethiopia.
"Special Request" runs through Nov. 2. Hours for Diggs Gallery are Monday through Friday from 11 a.m. until 5 p.m. The gallery is located on the lower level of the O'Kelly Library on the campus of Winston-Salem State University.