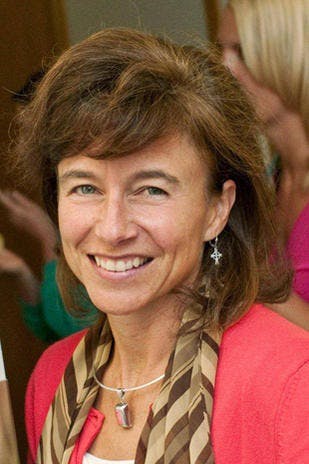 DAVENPORT, Iowa — A judge declared a mistrial Wednesday in the case of a conservative scholar who claims she was passed over for jobs at the University of Iowa law school because of liberal bias.
U.S. Magistrate Judge Thomas Shields called the mistrial in the case of Teresa Wagner after jurors reported they remained hopelessly deadlocked after three days of deliberations. Shields told jurors the move means the case will have to be retried or resolved some other way, such as a settlement.
"We'll fight another day," Wagner's lawyer, Stephen Fieweger, said afterward. "This is not over."
The mistrial came hours after Shields exhorted jurors to try to reach agreement and warned them not to act "as partisans." Nonetheless, the jury sent a note Wednesday afternoon saying, "I do not see us ever agreeing."
During a weeklong trial watched closely in higher education, Wagner claimed that the overwhelmingly liberal faculty refused to hire her because she is a Republican who had worked for social conservative groups that oppose abortion rights. She argued that the opposition to her appointment was led by Professor Randall Bezanson who, as a law clerk for U.S. Supreme Court Justice Harry Blackmun, helped draft the Roe v. Wade decision that legalized abortion.
Professors testified that, while they were aware of Wagner's political beliefs, they passed her over for jobs teaching legal analysis and writing because she flunked a job interview in January 2007. A string of professors testified that she botched questions about how she would teach legal analysis, a key component of the job.
But Wagner said that claim was fabricated to excuse the political motivations of the 50-member faculty, which included 46 registered Democrats. She said the faculty did not want an outspoken female opponent of abortion rights to join their ranks.
Her lawyer had asked for more than $400,000 in damages, including lost wages and pain and suffering for "burning her bridges" in Iowa City.
Conservatives who claimed they had long been passed over for jobs and promotions in higher education had hoped Wagner would prevail because of her evidence suggesting discrimination, which is difficult to prove. The evidence included what her lawyer called a "smoking gun email" in which an associate dean warned then-Dean Carolyn Jones that he worried professors were blocking Wagner's hiring "because they so despise her politics (and especially her activism about it)."
Others in higher education warned that, if Wagner was successful, it would give the courts a bigger role in second-guessing decisions best left to the judgment of universities and likely lead to more litigation. Some also raised the prospect that universities could face government-mandated quotas requiring them to hire a certain percentage of professors of differing political beliefs.
The trial exposed tension among the Iowa faculty and questionable hiring practices, including the law school's decision to erase a videotape of Wagner's job interview shortly after she was turned down. The university also could not produce any written documents showing criticism of her interview at the time; the only documents made public were from professors praising her.
Fieweger said the trial had showed how hiring decisions were made by faculty vote with no clear rationale.
"It did shed light on that so that people can see that there has to be some type of reform," he said. "There's really a complete lack of transparency here."
University spokesman Tom Moore said the school respected the trial's outcome and will "continue to review our policies to ensure that all hiring and promotion practices at the university comply with the law."