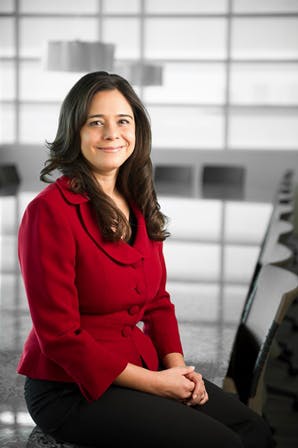 Dr. Luz E. Herrera
As a young girl in the 1970s, Luz Herrera accompanied her parents to flea markets, where they sold Mexican foodstuffs. There, she sometimes overheard other working-class vendors discussing their legal problems.
Those childhood experiences have germinated into Herrera's twin mission as a law professor, and before that, a community lawyer in a solo practice — access to justice and entrepreneurialism.
The assistant professor at Thomas Jefferson School of Law, a graduate of Stanford University and Harvard Law School, has emerged as a national leader on extending "low bono" legal services to working-class people who cannot afford to pay customary rates and don't qualify for free legal aid because they earn too much.
Since arriving at the San Diego law school in 2008, Herrera has directed the Small Business Law Center and advised a new solo incubator for alumni setting up low bono practices. She teaches Access to Justice and Community Economic Development and serves on the ABA's Standing Committee on the Delivery of Legal Services.
"She is both trying to do this locally at a law school and also has a national presence and legitimacy because she has the credentials," says Raquel Aldana, a professor at the University of the Pacific's McGeorge Law School and a Harvard classmate. "Her name is often associated with a small group of law schools that are doing innovative incubators."
Herrera's career path starts in Tijuana, Mexico, her birthplace, runs through naturalization while at Stanford and continues into Compton, Calif., where she established a low bono practice and a nonprofit to train community lawyers.
A couple of misdirected starts occurred along the way. "I entered law school thinking that I was going to be a voting rights attorney," Herrera recalls. But no one on the faculty had experience in that specialty, until Lani Guinier, a former lawyer with the NAACP-LDF, arrived in Herrera's last year of law school.
After working a traditional job in San Francisco for two years, she met a community lawyer in Huntington Park, Calif., Salvador Alva, who doubled as the city attorney there and needed help serving his working-class clients. Herrera joined him, and then one day, he received a letter from an attorney in nearby Compton who was retiring and wanted Alva to step in.
Alva declined the offer, but advised Herrera to take it.
"I didn't have a business plan. I just kind of went for it," she says. "I now recommend that my students have a business plan."
Herrera improvised and grew the tiny practice. She charged lower hourly rates, took smaller retainers, set up payment plans and accepted in-kind payments. She lived with her parents. Aldana recalls visiting the home and seeing Herrera's clients doing maintenance to work off legal fees. Herrera stayed in Compton for seven years.
Since the last recession dried up many traditional legal jobs for good, more law schools are training students as community lawyers, and professors talk up providing low bono services.
"She wasn't doing this because she needed to do it. She was doing it because she felt that she was pioneering something," Aldana says. "I think her vision, pedigree and legitimacy, from having done it and struggled through this in an area like Compton, made her stand out and makes her a leader in this area."