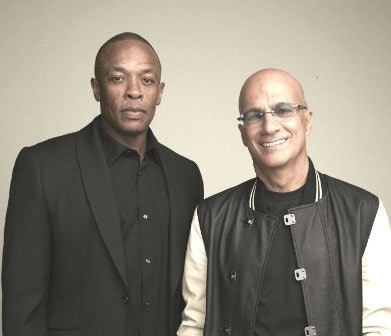 To his fans, Dr. Dre is known as a pioneer in hip-hop music and culture. The celebrated music producer, whose real name is Andre Young, was one of the creative forces behind West Coast rap, and his collaborations with artists such as Snoop Dogg, 50 Cent and Eminem have produced numerous hit songs.
In the past decade while leveraging Dr. Dre as a brand name, Young and business partner Jimmy Iovine shook up the consumer electronics world by building the Beats by Dr. Dre audio equipment company into a billion-dollar business. Iovine had co-founded Interscope Records, the record label where Young had early success as a rap music producer.
Seeking to import some of the duo's success to its academic offerings, the University of Southern California announced on Wednesday that Young and Iovine are donating $70 million to establish the USC Jimmy Iovine and Andre Young Academy for Arts, Technology and the Business of Innovation. The academy, which is inspired by Young's and Iovine's success in music and electronics, intends to develop "a new generation of inspired innovators", according to USC officials. The gift is part of the Campaign for the University of Southern California, a multiyear effort to raise $6 billion to advance USC's academic priorities and to broaden its impact on the world.
"These two visionary men have collaborated as groundbreaking pioneers in the music industry and as entrepreneurial businessmen. Now, they're combining their efforts to become visionary philanthropists in American higher education," said USC president C. L. Max Nikias during a televised news conference.
"Jimmy and I have been very fortunate over the last 20 years," Young said. "We've been given a lot and we thought this was a great way to give back by building this academy."
The new academy will draw faculty and resources from four USC divisions — the Marshall School of Business, the Roski School of Fine Arts, the Viterbi School of Engineering and the Thornton School of Music. The interdisciplinary academy will allow talented students to pursue an undergraduate degree with courses spanning from marketing, entrepreneurship, computer science and engineering, audio and visual design to the arts.
In fall 2014, 25 students will enroll in the academy's first class. Applicants will be accepted based "on a rigorous review process encompassing demonstrated academic excellence as well as proven ability for original thought," according to the university.
"I am incredibly excited about the opportunity to create what we believe will be a new standard in higher education," said USC Roski School dean Erica Muhl, who will serve as the academy's inaugural executive director.
"It's a four-year undergraduate degree, which is about innovation at the intersection of arts and technology." she explained. "It's about accommodating that student who's grown up in the midst of the technological revolution that has changed the way we think, work, play and learn."
The academy is expected to focus on four core curriculum areas: arts and entrepreneurship; technology, design and marketability; concept and business platforms; and creating a prototype. USC officials say the academic program will include one-on-one faculty mentoring, opportunities to interact with prominent arts and entertainment professionals, and a wide array of student internship opportunities.
"The academy's four-year curriculum will culminate in an experience we call the 'Garage.' Self-directed teams of students guided by faculty and industry mentors will move into a specially-designed educational space that will offer access to cutting-edge technology and machinery for the purpose of envisioning and rendering new products, new technologies, art forms and modes, or models, of doing business," Muhl said.
Students living in the Garage will determine a project that can be developed into a prototype over the course of the school year. "The big picture knowledge and skill that will be provided by the academy and the Garage experience will equip graduates with a leadership perspective that is unparalleled in an undergraduate degree. And it's also going to be virtually applicable to almost any industry," Muhl added.
Establishing the academy at USC "couldn't have been done at a better place … which is actually not too far from where I was raised," Young said. A native of Compton, Calif., Young co-founded the group N.W.A. and won critical and commercial acclaim with the rap group's 1988 album 'Straight Outta Compton.' In 1992, Young released the solo album, 'The Chronic,' which Rolling Stone magazine deemed as one of the greatest albums ever.
Iovine, who is the chairman of Universal Music Group's Interscope-Geffen-A&M Records, began his music industry career as a recording engineer. As a record producer, he has worked with artists such as Patti Smith, Tom Petty and the Heartbreakers, U2, Stevie Nicks, Dire Straits and The Pretenders.
In 2006, Iovine and Young co-founded Beats Electronics, a high-performance headphone and audio equipment company. With expansion into smartphones and car audio systems, Beats by Dr. Dre has captured a 40 percent market share of the headphones industry, according to USC.