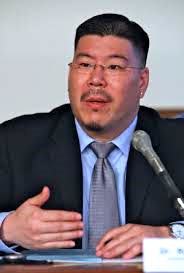 A leading scholar in the study of disparities among Asian-Americans and Pacific Islanders in higher education will likely get a boost in his research due to a forthcoming move to California, which has the country's largest AAPI population.
Effective this fall, Dr. Robert Teranishi will be the inaugural holder of the Morgan and Helen Chu Endowed Chair in Asian American Studies at the University of California, Los Angeles, where AAPI students make up 36 percent of the 27,000-plus undergraduates. Teranishi has also accepted an appointment as professor of education in UCLA's graduate school of education and information studies. He will be leaving his post as associate professor of higher education at New York University.
Since Teranishi's research is in a young academic field, his move to the West Coast could raise the overall profile of the entire discipline, he says.
"There's growing recognition of how fast the AAPI population is multiplying," he says. "Institutions and programs are seeking faculty, especially faculty of color, who can address the demographic questions. I'm looking forward to joining UCLA and continuing to try to improve the educational experiences and outcomes of AAPI students."
Morgan and Helen Chu, who are alumni and among the founders of UCLA's Asian-American Studies Center, and for whom the endowed chair is named, called UCLA's hiring of Teranishi "wonderful news."
"We are excited that the Chu Endowed Chair will support his program of research," the statement read.
Teranishi studies the causes and consequences of stratification of college opportunities among AAPIs. He is particularly interested in how higher education practices and policies can impact—or, in some instances, fail to address—the mobility of the most marginalized and vulnerable communities. For some audiences, Teranishi's work is a rare encounter since any narrative of AAPI students differs from the seemingly omnipresent "model minority" myth.
As the principal investigator of the National Commission on Asian-American and Pacific Islander Research in Education (CARE), Teranishi has examined a variety of topics involving the 48 ethnic groups comprising AAPIs.
For example, a 2011 CARE report, titled The Relevance of Asian-Americans and Pacific Islanders in the College Completion Agenda, shows a wide variation in degree attainment. More than 80 percent of East Asians (Chinese, Korean and Japanese) and South Asians (Asian Indian and Pakistani) who enrolled in college earned at least a bachelor's degree.
But among Southeast Asian adults who were aged 25 or older, 34 percent of Vietnamese, 43 percent of Cambodians, 47 percent of Laotians and 48 percent of Hmong left college without any degree.
Similarly, Pacific Islanders also had high attrition rates. About 47 percent of Guamanians, 50 percent of native Hawaiians, 54 percent of Tongans and 58 percent of Samoans went to college without obtaining a degree. Pacific Islanders and Southeast Asians had higher proportions of graduates whose associate degree was their highest level of education, while South Asians and East Asians were more likely to hold a bachelor's or advanced degree.
The 2011 CARE report offered recommendations to colleges and universities, such as broadening their awareness about and becoming more responsive to AAPI students by disaggregating and cross-tabulating data to better identify their specific needs.
Although the state of California has a reputation as a bastion for liberal and progressive policies, its AAPI populations are not necessarily better educated than counterparts in other regions.
In 2011, for instance, Diverse profiled a Hmong studies center at Concordia University in St. Paul, Minn., where about 5 percent of the 2,800 students were Hmong-Americans. More than 60,000 people of Hmong descent reside in Minnesota, according to the 2010 Census, with about one-third in St. Paul, which boasts the largest urban contingent of Hmong nationally.
Concordia was offering what might have been the first U.S. undergraduate minor in Hmong studies, with classes such as cosmology and beliefs, arts and literature and the Hmong language.
The academic minor had drawn so much national attention that several Hmong-American students from colleges in other states had transferred to Concordia in order to enroll in such classes.
While 48 percent of Hmong throughout this country had dropped out of college, according to the 2011 CARE report, Diverse found that Hmong Americans at Concordia were more likely than the national average to earn at least a bachelor's degree.
Teranishi, meanwhile, acknowledges that, because his move to UCLA means increased access to AAPI populations, it also could mean a better ability to train the public on the most underserved and educationally disadvantaged communities. "Hopefully, my work can have policy implications and improve social mobility," says Teranishi.
Earlier this week, Dr. David Yoo, director of the UCLA Asian-American Studies Center, says he was "extremely pleased" about Teranishi's hiring, noting that Teranishi's research has been referenced in U.S. Supreme Court cases on desegregation and affirmative action.
Teranishi says that, although he studied AAPI college student experiences and outcomes earlier in his career, he has now begun to focus more on higher education institutions that have honed successful practices in student retention and graduation, have committed to targeted intervention and have hired and trained culturally competent staff to support students.