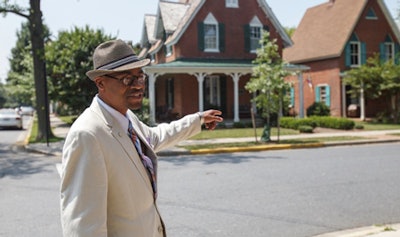 EASTON, Md. — Dale Glenwood Green, an assistant professor at Morgan State University, had been studying the historic churches on the Eastern Shore for several years when Carlene Phoenix asked him to study the history of the people in The Hill neighborhood.
Green combed through U.S. Census records and cobbled together historic documents linking the community to widely unknown facts that he found significant.
He sought the help of some 75 academics, archeologists and researchers from 11 institutions who worked separately and in silence for four years.
What they've unearthed through oral history, documents, and preliminary archeological findings were missed, or perhaps deemed insignificant, when The Hill was listed on the National Register of Historic Places in 1978, and again in 2005. But for Green, a 30-year-old professor who specializes in architecture and historic preservation, the findings are those of "disbelief."
As an African-American, he finds it difficult to articulate his feelings because he and others will soon be able to accurately rewrite the American story of slavery, lynching, Jim Crow, segregation and Civil Rights among free Blacks and Whites on the Eastern Shore of Maryland.
They've found a historic community of free Blacks that predates Treme', a neighborhood in New Orleans, which had been recognized as the oldest neighborhood of free Blacks until now.
The residents on The Hill lived in a 20-block area in the integrated community of free Blacks and Whites, who were probably Quakers and Methodists, in Easton, Md., not far from The Wye House plantation, where renowned abolitionist, historian and orator Fredrick Douglass lived as a slave with thousands of others.
"How this came about is almost spiritual," said Green. "This is one of the most rewarding projects that I could ever be a part of. It's hard for me to articulate my feelings into words. It's the project of disbelief. … We have at least 200-plus historical families that were birthed out of this settlement on The Hill. We have unearthed the oldest free Black settlement that has continuously occupied these buildings and are still in existence," he said.
"We can take their lineages back to Africa," Green said breathlessly during a telephone interview. "We have a log from a slave ship in Senegal. What the records don't tell us we can tell from the archeology."
Green and his researchers are excited about the oral history that they can capture today from some of the descendants of those free Black families.
Rosalee Gale, 93, for example, still lives in a house where her parents and grandparents grew up some 200-plus years ago.
They weren't sequestered in a segregated community, the research shows. The overall research proves how this "dense and unusual free Black society survived. … They shared a common unity with Whites," Green said. "We have advertisements from a Black barber who was patronized by Whites. This is an integrated society who supported and sustained one another. They really understood how to live together and to worship together. They survived and supported that integration."
The crockery, handmade nails and a single penny they left on the land were found by a group of archeologists led by Mark Leone and his team from the University of Maryland. Those items will be used as physical evidence of how this community lived, where they lived and what they did for a living. Leone said he thinks the discovery will define a "complex social landscape where slavery and freedom existed within walking distance."
A penny from 1794 with the image of Lady Liberty was uncovered in the backyard of the now Talbot County Women's Club in Easton, said Stefan Woehlke, a doctoral student at the University of Maryland and the site director of the archeological dig on The Hill.
That single object is significant because the property was owned by James Price, the register of wills in Talbot County, who lived with three free Blacks, according to the 1800 Census.
"Before the excavation we knew nothing about the African-Americans living there. … We have evidence that at least one of the African-Americans had a small-scale blacksmithing operation in which he made nails by hand. We also have some preliminary evidence of a small structure, possibly a chicken coop, which would have given African-Americans the opportunity to sell eggs for some additional income," Woehike said, adding that the group will continue excavating and analyzing the materials for years to come.
The significance of the Lady Liberty penny, the nails, and other items provides a narrative that hasn't been written in American history books, Green said.
"Today and historically that coin represents the reality of that neighborhood as a community that speaks to liberation. It speaks to freedom. If that had been found anywhere else, it might not give meaning to where Grace Brooks purchased land, freedom of herself, her children and grandchildren in one transaction before the Emancipation Proclamation for 70 pounds," Green said.
"It is very powerful," he added, saying that she purchased the property in 1793 and the coin was dated 1794.
Information like that places the historical significance of The Hill into perspective. This part of "American history hasn't been written, hasn't been publicized or appreciated,'' Green said.
That will change over the five years, he said. The Smithsonian's National Museum of African American History and Culture has planned a permanent exhibit in 2015 of The Hill community. There are books in the works as well as a documentary on PBS, the Public Broadcasting Service.
Though unavailable to be interviewed for this story, Carlene Phoenix, the resident who encouraged Green to study the history of her people, said in a prepared statement, "Once, the Hill was like a little town, self-contained and self-sufficient. … The people who lived here paved the way for us, and we owe it to them to recover their rich history. The Hills can and should become an historic destination."
Green said he hopes his research team can make that happen. "She tells me, I'm doing a good job."