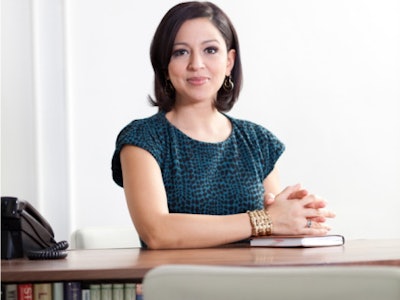 Though known as a journalist and public speaker through her former platform as host of CNBC's personal finance show, On the Money, and contributor to publications such as Glamour, Latina, Essence and Men's Health, Carmen Wong Ulrich describes herself as "a glorified teacher" since she has served as an instructor for years. Last fall, Ulrich joined the faculty of the Polytechnic Institute of New York University as an assistant professor of finance and risk engineering.
"It's my favorite thing in the world to do—to motivate and to educate people," says Ulrich. "They leave the room, hopefully, happier and fuller."
Despite her status as a media personality, Ulrich reveals that she decided she wanted a career in academia "probably when I was a kid. I'm not someone who necessarily believes in retiring or having one career," she says. In the course she is heading at NYU-Poly on behavioral economics for engineering students, Ulrich is able to tap into her expertise in personal finance—she authored Generation Debt: Take Control of Your Money — A How-to Guide in 2006 and The Real Cost of Living: Making the Best Decisions for You, Your Life and Your Money in 2010.
"Part of the reason why I wanted to be in a school of engineering [and] not in an M.B.A. program or business school is because engineers really respect the human element in anything that they do," explains Ulrich. "They are aware of the reality of human beings and how we interact with everything—from computer engineers to mechanical engineers to finance engineers. That human element is real, and it's respected.
"I love that they don't have a ton of background in humanities or economics or in behavior," she continues, "but they are so open to learning so much more. And I learn a lot from them, their fields and what they are doing. So I am just thrilled by our mutual enthusiasm."
Dr. Charles Tapiero, the Morton L. Topfer chair and distinguished professor of financial engineering and technology management at NYU-Poly, aided in recruiting Ulrich because, he says, she offers a unique quality. "She contributes to the orientation of financial engineering programs that seek to bridge theory and practice," he says.
Ulrich has not only brought her knowledge of personal finance to the job, but she's also brought her technical skills in television, too, by helping in the production of promotional materials for her department.
"Having had a daily network national show and also having worked a lot on the web, I was able to highlight what our professors, both full-time and adjunct, are doing with the department," says Ulrich, who also serves as co-founder and president at ALTA Wealth Management. The department of finance and risk engineering is planning an online educational series to share basic elements of finance and research that are often misunderstood, according to Tapiero. "Carmen has been of great help," in these matters, says Tapiero, because "she has an ability to simplify and focus on what is important."
When Ulrich is not on campus or working on her own enterprises, she is involved with the New York Urban League and the group Girls Who Code. "I am the Urban League's first Latina to serve on the board, and, as a native of Harlem, I am especially proud of this," says the Dominican-American, who has also informally started working to recruit more Latinas into science, technology, engineering and math (STEM) fields at NYU-Poly.
"My presence there is an inspiration for Latinas to see that we can belong there," says Ulrich, noting that unfamiliarity with STEM is impeding Latinos from joining those fields. "I don't think that enough people really realize or expect Latinos to be in STEM, and I think that that can impede a lot of young Latinos and Latinas from going into [those fields], simply because the expectations are not there. It does tend to be a field where you need to be proactive," she explains.
Indeed, Sayar Lonial, senior director of marketing and communications at NYU-Poly, agrees that Ulrich's presence on campus has made a wider impact in inspiring other young Latinas. "Carmen not only brings her intellect and capacity for teaching to our school, but she serves a role model for other young women who are attending Poly or thinking about attending Poly in the future," he says. "Her fame notwithstanding, Carmen shines a light on the STEM fields and attracts a larger diversity to the engineering profession with her life experience and career path."