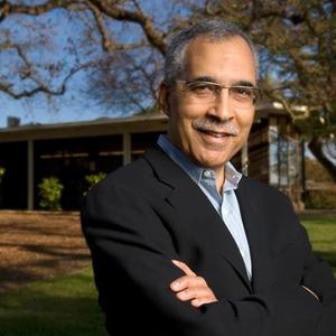 Claude Steele, a preeminent scholar of social psychology and dean of Stanford University's Graduate School of Education, has been selected to serve as the next executive vice chancellor and provost of the University of California, Berkeley. His appointment is contingent on the approval of the Regents of the University of California, which will vote on the appointment and terms of employment at its next meeting this month.
If approved, Steele is expected to assume the position on March 31. He will succeed retiring Executive Vice Chancellor and Provost George W. Breslauer, who has served in that role since 2006.
As executive vice chancellor and provost, Steele will serve as the chief academic officer for UC Berkeley's 14 schools and colleges. Working closely with the Faculty Senate and student leaders, Steele will have leadership responsibility for all academic programs, faculty recruitment and retention and undergraduate and graduate education. In addition to serving as executive vice chancellor and provost, Steele will have an appointment as a professor in the Department of Psychology.
UC Berkeley Chancellor Nicholas Dirks announced the appointment on Monday, noting Steele's stellar academic accomplishments and his strong record of leadership at both Stanford and at Columbia University, where Steele served as provost from 2009-2011.
"Claude is a world-class scholar, an extraordinarily gifted administrator and a visionary leader with a deep commitment to teaching, innovation and collaboration," Dirks said. "He is uniquely qualified to help sustain and expand our public mission and ethos, maintain our academic excellence and access and advance on our commitment to diversity in every sense of the word. We look forward to welcoming him to Berkeley."
Steele currently serves as the I. James Quillen Dean of Stanford's Graduate School of Education, a position he's held since 2011. As dean he led the school toward a deeper engagement in public education, including a major partnership between the school and the San Francisco Unified School District.
In his prior role as Columbia University's provost, Steele led and implemented academic policies and plans for the university, including a major initiative to enhance support for the basic sciences. While at Columbia, he was responsible for managing the work of the university's faculty, departments, research centers and institutes, as well as oversight of the university's budget and financial planning.
A renowned and respected social scientist, Steele has devoted much of his academic career to groundbreaking social psychology research around issues of group stereotypes, self-identification, self-evaluation and academic achievement. His work is widely published, and his research has been extensively used by educators and policymakers to develop practical applications and interventions that improve academic performance among underrepresented groups.
"Claude will be a bold change agent for helping us improve faculty and student diversity, improve professional development for graduate students and find new funding streams," says Bahar Navab, a Graduate Assembly assembly affairs vice president and a member of the search committee. "Together with Chancellor Dirks, I think he can help push Berkeley to the next level as a public research university."
"With its public mission and vigorous commitment to broad access and academic excellence, UC Berkeley holds a special place among the world's great universities. I am thrilled and honored by this opportunity to serve this great institution and contribute to its mission," Steele says.
Steele was selected after a nationwide search that produced a number of extraordinarily qualified candidates. Interviews and candidate evaluation were conducted by a search committee that included faculty, staff, student and alumni representation.