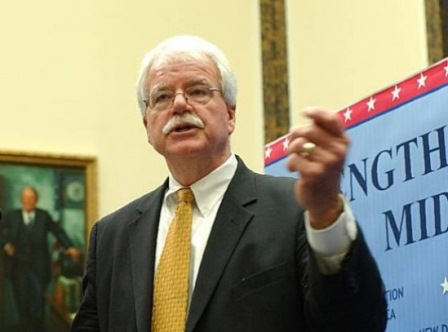 U.S. Rep. George Miller of California, a senior Democrat and former chairman of the House Education and Labor Committee, has announced that, after four decades in Congress, he will retire at the end of the current congressional term. Over the past 40 years, Miller has led three House committees and co-authored major laws shaping American education, labor and health policies and the protection of the environment.
A noted fighter for social justice and equality, Miller is one of the principal authors of the No Child Left Behind legislation, which in 2002 mandated that public K-12 schools publicly disclose the academic performance of students by race, ethnicity and other demographic categories and establish goals aimed at reducing and eliminating achievement gaps.
As the House Education and Labor Committee chairman between 2007 and 2011, Miller helped shepherd the overhaul of the federal student loan system, boost Pell grant funding for college students and increase funding for community colleges during the passage of the Affordable Care Act. More recently as the ranking Democrat on the House Education and the Workforce Committee, Miller had begun efforts to direct attention to the working conditions of adjunct faculty members in American higher education.
"I look forward to one last year in Congress fighting the good fight and then working in new venues on the issues that have inspired me," he said in a statement.
"This is a great institution and I cannot thank my family and my constituents enough for having given me the honor and privilege of representing my district in Congress these past 40 years," Miller said. "I have tried to repay them for their confidence by working hard every day to make our country a better place."
In his retirement announcement on Monday, Miller indicated that he would push Congress this year to meet a number of goals, including making college more affordable through the upcoming reauthorization of the Higher Education Act.
"I will leave Congress with a full heart and a crowded plate because the challenges of our times demand our constant involvement," he said.
Elected in 1974 at age 29 during the Watergate scandal, Miller has also chaired the House Natural Resources Committee and the Select Committee on Children, Youth and Families and has long been a close adviser to House Minority Leader Nancy Pelosi.
Pelosi commended Miller for crafting "some of the most creative legislation of our time—on health care, education, child policy and labor rights and also on the environment, energy and national parks."
Additional praise of Miller and his record of service has poured in from a wide range of leaders, including from those in government, labor and education sectors. On Monday, President Obama, in a White House statement, thanked Miller for his service and leadership.
"Because of his tireless efforts, our air and water are cleaner, our workers' rights are better protected, more young people can afford to go to college, and more working families can make ends meet," President Obama said.
"As Education Secretary, I have valued George's counsel, wisdom, and friendship and it has been an absolute privilege to work with him. Though his leadership will be sorely missed, I know that the influence of his work will be felt for generations," said U.S. Education Secretary Arne Duncan.
Speaker of the House John Boehner, R-Ohio, issued a statement noting that, while "no one would confuse me and George Miller for ideological soul mates," the two House leaders "got things done on behalf of the American people thanks in no small part to [Miller's] dedication and willingness to work for the greater good."
"I have great respect for George, and on behalf of the whole House, thank him for his decades of service and congratulate him on a remarkable career," Boehner said.