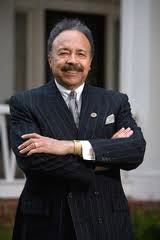 TALLADEGA, Ala. ― Hampton University President William R. Harvey and his wife, Norma, have given more than $1 million to Talladega College to help establish a museum that will be home to the renowned Hale Woodruff Amistad Murals, the college announced Wednesday.
Harvey, who has been Hampton University's president since 1978, is an alumnus of Talladega College. He said that he found his passion for African-American art while in the classroom of Dr. David Driskell, a leading art historian and artist.
"My professors at Talladega College gave more than instruction — they taught us about life," said Harvey, who is sole owner of the Pepsi Cola Bottling Company of Houghton, Mich., and has given more than $2.5 million to Hampton University over the last 13 years. "Dr. Driskell cultivated my appreciation and advocacy for African-American art."
He added: "I am so proud to take my Talladega College experience and establish Hampton University's museum collection as one of the largest African and Native American collections in the nation and now name the new home for the Hale Woodruff Amistad Murals."
The facility, which will be known as the William R. Harvey Art Museum, will consist of three art galleries, a multi-purpose creative space and outdoor space that features an amphitheater. The three-panel Amistad Murals, which Woodruff was commissioned to paint in 1938, depict the saga of the 1839 uprising of 53 African natives who had been headed on the schooner to be sold into slavery.
Talladega College partnered with the High Museum in Atlanta in 2011 to restore the $40 million Amistad Murals in preparation for a national tour after having been showcased in the lobby of Talladega College's Savery Library for 70 years. The Rising Up!: Hale Woodruff Amistad Murals at Talladega College national tour is in its second year, and counts New York, Washington, Detroit, Dallas, New Orleans, Atlanta and Chicago among its stops.
"The college is ready to embark on a new history for the Amistad Murals, telling the story of determination, resiliency, and the new African-American experience," said Talladega College President Billy C. Hawkins. "Talladega College has a history of cultivating promising artists. Hale Woodruff was a young, talented artist when he created his greatest work of art — the Amistad Murals. It is only fitting Talladega College continues to cultivate and bring opportunity to the next Hale Woodruff or David Driskell."