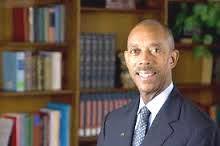 When Ohio State University announced that it had tapped a seasoned college administrator to become president of its 64,000-student campus in Columbus last month, the news quickly spread across the country like a blazing wildfire.
Black OSU alums took to social media to hail the appointment of Dr. Michael V. Drake—the chancellor of the University of California, Irvine (UCI)—as "bold, audacious and historic."
The national news media wanted to know more about the 63-year-old Black medical doctor who beat out other candidates to become the first African-American to lead the public land-grant university founded in 1870.
While Drake says that he was "very flattered and honored" to have been chosen by OSU's Board of Trustees to preside over one of the nation's largest universities, he doesn't give much thought these days to the historical significance of being the school's first Black president.
"People in my generation have been firsts for so long," says Drake in an interview with Diverse. "I was the first African-American student body president of my high school more than 40 years ago. I don't think about that so much because, for my whole life, I've been a first. I think about whether I can add value, and I would hope and believe that I have added value to every institution that I've been able to work in."
Still, the news of his appointment comes at a time when academics have become weary about the dismal number of African-American presidents selected to lead predominantly White colleges and universities. Even at historically Black colleges and universities, the high turnover rate among Black college presidents in recent years has left some wondering if the academy has done enough to mentor and groom African-Americans to assume such posts.
No one doubts that Drake—who was vice president for health affairs for the University of California system before he was appointed chancellor at UCI—had all the qualifications to emerge as the school's top contender, replacing Dr. E. Gordan Gee who retired last year.
With degrees from Stanford and the University of California San Francisco, Drake quickly distinguished himself as a worthy successor to the eccentric and sometimes controversial Gee. Drake has served as a professor, senior associate dean and has engaged in cutting-edge research focused on breast cancer, HIV/AIDS and tobacco use.
"He is exactly the right leader at the right moment in the university's history as we address the challenges of affordability and access, while building on the already strong momentum we have generated at Ohio State in increasing the university's academic excellence," says Robert H. Schottenstein, chairman of OSU's board, as he introduced Drake and his wife, Brenda, who is an attorney.
But unlike many other well-known state schools, OSU has five prominent Black trustees, who have helped to push the university into becoming a major leader in establishing programs and offering resources to minority students and faculty. For example, several of OSU's buildings are named after African-Americans, and the Todd Anthony Bell National Resource on the African American Male headed by Dr. James L. Moore III is routinely cited as a national model for how best to improve retention and graduation rates for African-American males in college. Nearly 500 Black males at OSU have a grade point average of 3.0 or higher.
"Public universities can be a bridge for people to cross," says Drake, who added that he's in favor of "helping to pave a bridge of success for members of our community." In his current role as chancellor at UCI, he has routinely been praised for his efforts to create programs and initiatives to make the university more racially and economically diverse.
"I believe very much in inclusiveness," says Drake who is scheduled to arrive on campus in June and plans to advocate for the issue as a major priority moving forward. "I've been a practitioner and champion of inclusiveness for a long time, so I don't know any other way to do things."
OSU faculty members like Dr. Terrell Strayhorn, an associate professor of education, says that he's impressed by Drake's vision.
"I stand ready to assist Dr. Drake and his leadership team in achieving our goal of moving from excellence to eminence," says Strayhorn, who also directs OSU's Center for Inclusion, Diversity, and Academic Success (IDEAS). "He's more than the 15th OSU president. He's the first Black president of OSU. and his success signals incredible progress, placing OSU at the fore of national conversations about leadership."
Jamal Watson can be reached at jwatson1@diverseeducation.com