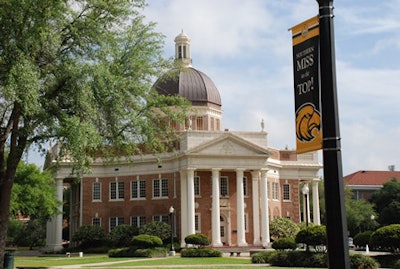 The University of Southern Mississippi has again defeated a former graduate student's race, national origin and ethnic discrimination suit.
The 5th Circuit U.S. Court of Appeals upheld a lower-court ruling that dismissed the case of Maria Salcido, a part-time student in the university's marriage and family therapy master's program.
Salcido initially filed an internal complaint with the university and a complaint with the U.S. Department of Education's Office of Civil Rights. After the OCR inquiry found no Title VI violations, the university proposed a plan to help her finish her degree requirements even though she had moved out of state, according to the decision.
Salcido rejected the plan and went to federal court instead.
The suit claimed that Salcido was the only student in the program born in Latin America and had been denied the same opportunities as White, U.S.-born classmates to accumulate the required number of clinical hours. It also alleged discriminatory behavior and remarks by faculty members, including one who wanted to assign her to work exclusively with Latino clients.
A District Court judge dismissed the case without trial.
In upholding that decision, the appeals panel found no basis to hold that the university denied Salcido's due process regarding her access to clinical hours and externships, nor did it violate any grievance-related procedural guarantees included in the student handbook.
The appeals panel also found no evidence that individual defendants "encouraged discriminatory behavior or instituted policies that led to her receiving fewer clinical hours." Similarly, there was no proof of discriminatory intent even if the university had departed from the grievance process.
Ex-Faculty Gets Go-Ahead to Pursue Racial Discrimination Suit Against Old Dominion
A White ex-faculty member who was denied tenure has received permission to continue her reverse racial discrimination and retaliation suit against Old Dominion University.
U.S. District Judge Henry Morgan Jr. in Norfolk, Va., rejected the university's bid to dismiss the suit by Dr. Patricia Hentosh, who lost her job in the School of Medical Laboratory and Radiation Sciences last year.
Hentosh joined the school in 2006. During her time there, she and an Asian American colleague, Dr. Anna Jeng, engaged in a dispute concerning lab safety, eventually leading to grievances against each other and a written sanction against Hentosh for disruptive behavior, the decision said.
The school's tenure committee split 2-2 on her application and the chair of the school recommended that Hentosh receive tenure. However, the college tenure committee — which included Jeng as a member — recommended against tenure on the grounds of inadequate external funding for research. The dean rejected Hentosh's protest of Jeng's participation on the committee and the provost denied tenure in 2011.
Old Dominion granted Hentosh an extended terminal appointment that ended last July, according to the court.
The suit accuses the university of treating White employees less favorably than minority employees and retaliating against White employees who "express concerns about conduct by minority employees." It also alleges that Old Dominion "consistently" favors minority employees in conflict with White ones.
The university asked Morgan to dismiss the suit on substantive and procedural grounds.
However, Morgan said Hentosh offered "sufficient facts to make it plausible that she was denied tenure under circumstances giving rise to an inference of unlawful discrimination."
For example, he said the university's failure to recuse Jeng from the college's tenure committee "plausibly infers unlawful discrimination." That failure "at best may have created only an appearance of impropriety. At worst, it leads to an inference that discrimination was afoot."
In addition, Morgan said the university's denial of Hentosh's request for a review of the tenure decision may also infer discrimination.
Judge Rejects Former Meharry Medical Student Sexual Harassment Suit
A federal judge in Nashville has dismissed a sexual harassment and discrimination suit by a former dental student at Meharry Medical College who claims a female faculty member physically attacked him.
Even if Dr. Suzette Stines had grabbed Payton Thomas around the neck and verbally abused him as he alleged, there was no evidence she had any sexual-related motivation, U.S. District Judge John Nixon ruled.
The judge also found no basis for Thomas' Title IX retaliation claim.
According to the decision, Thomas was a fourth-year dental student scheduled to graduate in May 2012, but failed to maintain the required 90 percent attendance record for work in the dental clinic.
The suit against Meharry claimed an incident occurred when Stines had "verbally and physically" scolded Thomas, grabbed him in a "choking hold" and later refused to work with him to complete his clinical supervision.
Thomas said he hadn't immediately reported the incident for fear of retaliation that would interrupt his academic progress, and said that he suffered severe anxiety due to the incident. Thomas later filed a formal internal complaint
Although Thomas passed parts one and two of the national dental exams and was accepted into a post-graduate residency, the college refused to let him graduate with his class, the decision said.
The suit alleged violations of Title IX and the Tennessee human rights law.
In throwing out the case, Nixon said Thomas didn't show that he had been subjected to "any sexual advances or requests for sexual favors" and that the allegations of "physical abuse and possible threats" were not "sexual in nature."
Nixon also said the school's response to Thomas' internal complaint didn't demonstrate "deliberate indifference" to the alleged sexual harassment.
Finally, he said Thomas couldn't pursue breach-of-contract and bad-faith claims because Meharry had made an academic decision not to let him graduate. That decision "was guided by his failure to meet clinical attendance requirements," Nixon said.