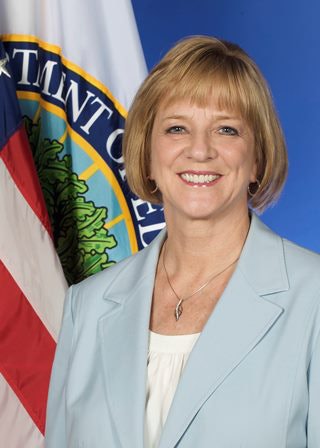 New Rochelle, NY– During a recent talk at the College of New Rochelle, a top official at the U.S. Department of Education assailed two of the most entrenched ideas about what ails America's public schools.
In her double-barreled attack last week at an event hosted by the Lower Hudson Council of Administrative Women in Education, U.S. Assistant Secretary for Elementary and Secondary Education Deborah S. Delisle dismissed the notion of an "achievement gap" and said it's too simplistic to think that merely adopting "best practices" will improve educational outcomes at low-performing schools.
"I'm on a one-woman crusade to dismantle the concept of 'best practices,'" Delisle said. "I say this because we think we have found the Holy Grail; people move [best practices] to a school district right next door and it doesn't work."
Delisle said her other "one-woman crusade" is to challenge people to rethink the idea of an "achievement gap."
"If we could stop thinking about 'achievement gaps' and start thinking about opportunity gaps, we'd go a lot further," she said, adding that the problem with the idea of an achievement gap is that it puts the focus on children who haven't learned a particular thing.
"The problem is in that idea, we're not putting [responsibility] onto the adults."
Though most of Delisle's comments focused on what goes on in the K-12 arena, those issues do have implications for colleges of education, which are under increased pressure to produce graduates that make a difference in student achievement.
Delisle spent a fair amount of time outlining the Obama administration's educational policy agenda, which includes universal pre-school; K-12 reform; college affordability and quality; school safety; and equity for students—that is, to "make sure all students have access to high-quality educational opportunities.
She defended the administration's emphasis on "college and career ready" standards.
"If not college and career ready standards, what are you going back to?" Delisle asked. "What's in its place? I get that people have this anxiety about it. I get that it's a change in philosophy in institutions. But we have to engage in what do we want for our kids? Do we want them to be prepared?"
Delisle said she resists the idea that all students should not be prepared for college.
"When somebody says to me, 'You know what? Every kid is not going to college,' I just shiver…," she said. "That's the one place where I have a real sensitive bone because I don't think it's right to divide out and say, 'You're not worthy of college and career ready standards, but these kids are.'"
Delisle acknowledged that it's a challenge to get high school freshmen to college and career ready standards when they "haven't had eight years of rigorous coursework to support that."
"Eventually, someone will say, 'Those kids couldn't do it,'" Delisle said. "[For] those of you working in urban environments, that's code [language] and you know it."
Delisle also defended calls by the administration and moves in various states to "raise the bar" for entry into the profession by requiring teaching candidates to have higher GPAs and to achieve higher scores on college entrance and licensure exams—something that some scholars say could have an adverse effect on diversity and that may do little, if anything, to raise student achievement.
The higher standards, Delisle explained, are meant to signal that teaching should not be used as a "default" for those who couldn't make the cut in more demanding professions, such as nursing or architecture.
"What has happened is it has become known that [teaching] is a low-level profession, and once you become known as a lower-level profession, people question the quality of who you're inviting into the profession."
As for the possibility of higher standards excluding more potential teaching candidates from diverse backgrounds, Delisle stressed the need to provide high-quality education starting in kindergarten and more rigorous coursework so that students from diverse backgrounds can meet the new standards and become teachers.