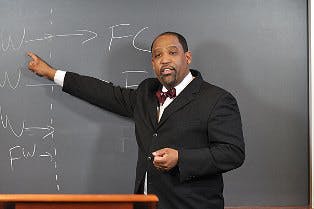 Ronald S. Sullivan Jr., is overseeing a unit that is working on approximately 100 cases.A quarter of a century is a long time to wait for the wheels of justice to turn. Yet Jonathan Fleming was forced to do just that.
Incarcerated for almost 25 years for a murder he did not commit, Fleming was finally exonerated in a Brooklyn courtroom this past April. A receipt from a phone call helped prove that Fleming, as he had consistently said, had been vacationing at Walt Disney World in Orlando on the night of the murder in 1989. The receipt had been in his case file all those years.
Fleming's case is one of many that are now under review at the Brooklyn district attorney's office since District Attorney Kenneth Thompson took charge last January. Eight have already been exonerated out of scores of potentially wrongful convictions.
Under Thompson's direction, the old Conviction Integrity Unit has expanded to become the Conviction Review Unit. The objective of the new unit is simple: to bring the innocent to justice and restore faith in the legal system.
"The goal is to get to the truth," says Thompson. "We cannot have innocent people in prison for murders they did not commit."
Thompson has brought in Ronald S. Sullivan Jr., a Harvard law professor, as a consultant on the design and operation of the new unit. As both a professor and attorney, Sullivan has real-world experience and a sophisticated eye for the legal process.
After graduating from Harvard Law School in 1994, Sullivan went on to become director of The Public Defender Service for the District of Columbia. Later, he joined the faculty of Yale Law School and was recruited by then-dean and current Supreme Court Justice Elena Kagan to Harvard.
Out of all his professional experience, Sullivan says his days as a trial lawyer in Washington, D.C., were the most transformative.
"The major lesson that I learned there, and one that I take into the post-Katrina work in New Orleans and the district attorney's office here, is that justice is something that people have to do. Justice comes when individuals with good intentions roll up their sleeves and go to work."
At the Brooklyn DA's office, the unit is working on approximately 100 cases currently. To facilitate the process, the unit now has 10 attorneys, three detective investigators and two paralegals on its team, up from two attorneys in years past.
Sullivan's unofficial title of "chief" of the unit has him playing many roles. He guides the review process, communicating with the lawyers and investigators in the unit, reviewing evidence and helping track down witnesses, some of whom have long since left New York City and are scattered across the country.
Cases are also reviewed by an independent panel of three attorneys in private practice. Sullivan is the liaison between the DA and the independent panel.
Though the review process is thorough, some cases "can be disposed of quickly." Yet speed is not the primary goal.
"We go where the cases take us. The district attorney has said he doesn't need us to be fast, just right," says Sullivan.
Charles Ogletree, a professor of law at Harvard, has been a mentor to Sullivan since he was a student at Harvard.
"The one thing that Sullivan learned as a student of the law and then as a practicing attorney was to look at the prosecution's case and ask all the right questions," says Ogletree. "Did they get the person's confession voluntarily or was it coerced? What evidence might they have ignored that involved possible incriminating statements by someone?"
For the men who have been wrongfully imprisoned for years and even decades, restitution will only ever be partial. Fleming recently filed a notice of a claim for $162 million against New York City. Though it is unlikely he will be awarded that much, another case playing out in the news provides a precedent to a monetary restitution for a similar circumstance. The Central Park 5, who were wrongfully convicted in 1989 of assaulting a jogger in Central Park, recently agreed to settle with the city of New York for about $40 million.
Financial rewards do not compensate for the loss of one's freedom, according to Ogletree. "None of that pays back the amount of indignity, disrespect and abuse — emotional and physical — that you suffer," says Ogletree.
Cleaning up the mistakes of the past is one goal, but fixing the system so that it stops imprisoning the innocent is another. "In learning about mistakes, or in recognizing mistakes, [district attorney's] offices learn from the errors and can work [proactively] to make sure that mistakes don't happen in the future," says Sullivan. Sullivan hopes that the unit he has helped develop will serve as a model for large district attorney's offices around the country. "We think it's one that's worthy of their attention," he says.