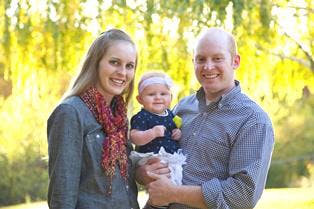 Zachary Featherstone, pictured with his wife and daughter, had been accepted for admission to Pacific Northwest University of Health Science's osteopathic medical program before having the decision rescinded last April.Pacific Northwest University of Health Science's osteopathic medical program must admit a deaf applicant this fall and must reasonably accommodate his disability.
A federal judge ordered the university in Yakima, Wash., to allow Zachary Featherstone to enroll and attend with sign language interpreters and captioning services.
U.S. District Judge Salvador Mendoza Jr. said Featherstone "established he is likely to prove that he sought reasonable and necessary accommodations that do not alter the nature of the educational program offered, the accommodations are available to PNWU and will not create an undue burden on the school."
As for the university's expressed concerns about patient safety and clinical requirements, Mendoza called them "unfounded based upon the growing trend of successful deaf health care professionals."
Featherstone was accepted for admission for fall 2013 after a timed interview with an integrated teamwork component in which he used an interpreter, the decision said. After his acceptance, he asked for captioning for lectures and interpreting for clinics and labs. He gave PNWU information about state Division of Vocational Rehabilitation funding for universities for auxiliary aids and services for deaf students.
He agreed to PNWU's request to defer enrollment until 2014 to provide more time for it to arrange aids and services, the decision said. The university created a 14-member accommodation committee for him.
But in April 2014, PNWU withdrew his admission, claiming concerns for patient safety in clinical situations, "compromised educational experiences for classmates" and an expected inability to finish performance exams on time.
He sued for violations of the Americans with Disabilities Act, Rehabilitation Act, state anti-discrimination law and related claims.
In his decision, Mendoza rejected assertions that reasonable accommodations would require the program to revise fundamental curricular components and would jeopardize patient safety. He labeled the argument that Yakima has limited to provide interpreter services as "incredulous," "misguided" and "uninformed."
"While PNWU is a small new medical school, when they opened their doors to providing students an education, they, like other schools, have to obey legal obligations that come with providing those services," Mendoza said.
No discrimination found
The University of New Hampshire has won a suit accusing it of race and gender discrimination against a female African-American assistant professor whom it removed from the tenure track and whose annual contract wasn't renewed.
In 2006, UNH hired Dr. Roslyn Chavda in a tenure-track political science position despite a hiring freeze as part of its "ongoing efforts to enhance racial diversity on campus," U.S. District Judge Landya McCafferty said. "The role of Chavda's race in her hiring was mentioned at the meeting where the faculty voted to hire her."
She was pregnant with twins when she arrived on campus, and medical complications kept her from teaching for several weeks, when colleagues covered her classes.
Her principal teaching duties were in the Master of Public Administration program.
The university renewed her appointment three times after annual performance reviews.
But in 2011, the Promotion and Tenure Committee and department chair recommended non-renewal based on "uneven performance as a teacher and her failure to publish a sufficient amount of peer-reviewed research," McCafferty said.
Chavda sued under federal and state laws for discrimination and wrongful discharge.
In tossing out the case, McCafferty said Chavda had acknowledged a "considerably weaker" publication record than two White female junior faculty members who won tenure in the department at about the time UNH removed Chavda from the tenure track. In addition, her student evaluations were "consistently lower" than those of other junior faculty.
A White male colleague with a research record similar to Chavda's and with better student ratings was denied tenure at about the same time.
McCafferty said, "Chavda has produced no evidence of any racial animus on the part of any of her colleagues in the political science department. She has produced evidence that her colleagues knew that the only reason the department was able to hire her was her race. But, she has not produced any evidence that any member of the department was displeased by the circumstances of Chavda's hiring or harbored any animosity toward African Americans specifically or people of color generally.
"While she has produced evidence that several colleagues harbored serious doubts about her competence long before she was removed from the tenure track, none of those internal P&T Committee communications give any indication that her colleagues harbored racial animus. Rather, they tend to mirror the antiseptic verbiage of the annual reviews," the decision said.
DeVry University prevails
A Hispanic former professor at DeVry University has lost a bid to reinstate a civil rights suit stemming from his termination.
The 11th Circuit Court of Appeals upheld a decision against Eduardo Flores in a case alleging illegal retaliation for an email complaint he sent to a DeVry official accusing the university of racist conduct.
In 2008, DeVry hired Flores as an adjunct in the College of Engineering and Information Sciences in Florida, according to court documents. In 2009, he was hired as a full-time assistant professor but his application didn't disclose that he was continuing to teach the same types of courses at ITT Technical Institute.
DeVry fired Flores in 2012 on the ground that he was working simultaneously for a competing institution in violation of its Professor's Guide to Excellence and Code of Conduct.
The appeals panel unanimously ruled that a lower-court judge correctly dismissed the suit because Flores failed to show retaliation, saying, "The evidence indicated that the decision-makers for his termination were not aware of the racism complaint he had sent to another DeVry official.
"Furthermore, Flores failed to show that DeVry's reason for firing him was pretextual. DeVry had a policy against full-time professors teaching at competing institutions, and it was undisputed that Flores violated this policy," the court said.