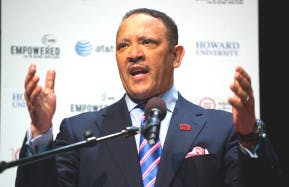 Dr. Norman C. Francis' decision to step down as president of Xavier University in New Orleans next year—a job that he's held for nearly 47 years—has led to widespread speculation across the academic community over who might be his replacement
In a series of interviews with a number of sources close to the university, Marc H. Morial—the former New Orleans mayor who is now president and chief executive officer of the National Urban League—was mentioned as an ideal successor to the 84-year-old Francis.
Morial, who is currently on the school's board of trustees, has taught at Xavier as an adjunct professor in the past, and his mother, Sybil, served in a variety of administrative posts at the school until her retirement in 2005.
But in an interview with Diverse, Morial, 56, who has led the National Urban League since 2003, says that he's not interested in the Xavier presidency.
"I don't really see myself in that vein, but it's always flattering when someone thinks that you can stand on the shoulders of Norman Francis," he says. "I am very committed to the National Urban League," he says, adding that the New York-based civil rights group founded in 1910 will kick off its major capital campaign this year.
It's no wonder why Morial's name quickly rose to the top of the list.
He hails from a political dynasty. His father, Ernest Nathan "Dutch" Morial, was the first Black mayor of New Orleans, serving from 1978 to 1986. And many of Morial's closest friends are still based in New Orleans. Political observers have long speculated that the trained attorney still had aspirations of someday returning to Louisiana politics.
His father was a classmate of Francis during the 1950s, when they were both enrolled at the private Black Catholic college. "I've known (Francis) as far back as I can remember."
Morial says that it will be impossible to replace the longest serving college president in U.S. history.
"Norman Francis has been a transformational leader in an indescribable way," says Morial. "He is a consummate leader. No one can fill the shoes of Norman Francis. No one can replace Norman Francis."
Francis had the skills and talent that he could have easily become a U.S. senator, a businessman or "the president of the United States," says Morial.
But his passion for "Black and yellow people" and his early understanding of issues like STEM led him to develop Xavier into becoming one of the leading institutions for preparing Black students to become physicians.
"Norman Francis is to this generation what Benjamin Mays was for another generation," says Morial.
Next year, three major HBCUs will begin the search for a new president. Spelman and Clark Atlanta University in Atlanta will also pick new presidents after Drs. Beverly Daniel Tatum and Carlton E. Brown announced their decision to step down.
Though Xavier's board chairman Michael Rue says that a search for a new president won't likely begin until sometime next year, several other names have also surfaced to the top of the list, including Dr. Antoine Garibaldi, the current president of University of Detroit Mercy.
Garibaldi, a native of New Orleans, was chairman of the Education Department, dean of arts and sciences and vice president for academic affairs at Xavier from 1982 to 1996. He is considered to be a Francis protégé.
Jamal Watson can be reached at jwatson1@diverseeducation.com. You can follow him on twitter @jamalericwatson