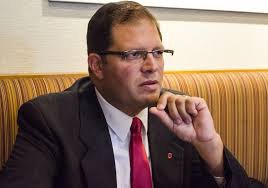 COLUMBUS, Ohio ― Ohio State University's fired band director witnessed more sexually charged incidents than previously reported, once proposed punishing a female band member who reported sexual assault and had a calendar of nearly nude male band members in his office that he never brought to investigators' attention, school attorneys said in response to his federal lawsuit.
In continuing to defend Jonathan Waters' July 24 termination, the university alleged that he repeatedly concealed the culture of the band from outsiders and misled university officials.
Waters sued for reinstatement last month, accusing the university, President Michael Drake and a provost of discriminating against him by disciplining him differently than a female employee and denying him due process.
The university seeks dismissal of the suit, including on grounds Waters was an at-will employee who could be fired for any reason. It also argues Waters can't validly argue gender discrimination as a member of the male majority.
Thursday's filing in U.S. District Court in Columbus includes new details.
It lists three sexual assault allegations brought to Waters while he was serving as interim director and director in 2012 and 2013, one more than was previously known. In one case, Waters proposed disciplining both the male and female involved by requiring them both to miss an upcoming road trip, university attorneys wrote.
The 2007 calendar was found in Waters' office after his termination. It pictures male band members with "strategically placed band equipment" and was marked, "For Jon Waters' eyes only." Waters referenced the document and its "seductive poses" in his lawsuit.
Waters had led the celebrated band since 2012. The halftime shows he created were considered revolutionary. Videos of the morphing and dancing images the band creates on the field have drawn hundreds of thousands of views on YouTube and landed the band in an Apple commercial.
"Ohio State's answer to our complaint contains many salacious accusations and innuendos against Jonathan Waters and the entire OSU marching band ― The Best Damn Band in the Land," Waters' attorney David Axelrod said in a statement. "We will aggressively attack those accusations and innuendos in court. It is a shame that the university is so willing to publicly disparage the marching band ― one of its crown jewels ― to defend its bad decision."
Axelrod said Waters' defense plans to call current and former band members who can rebut university claims with firsthand accounts.
Jeff Wadsworth, chairman of the Ohio State board of trustees, said the university was "put in a situation where it must share certain information in order to refute Mr. Waters' meritless claims."
The band's alumni club said the university's filing went too far.
"It is designed to attack and destroy the history, traditions and people who made up the Ohio State University Marching Band throughout its history," the group said in a statement. "It goes far beyond the need to defend a lawsuit brought by a wrongfully discharged employee."
Waters' lawsuit seeks a minimum of $1 million in damages and a court-ordered name-clearing hearing. It says Waters was targeted for dismissal to impress the U.S. Department of Education as it conducted an investigation into Ohio State's handling of sexual abuse claims.
Just weeks after Waters was fired, a federal settlement agreement was reached in that case and the probe was closed.
The university filed a 65-page response with voluminous exhibits, as well as a motion to dismiss. Besides the fact that Waters served at will, Ohio State attorneys told the court the school offered Waters the chance for a name-clearing hearing but he never got back to them.
The filing says Waters was aware of ― and even sometimes appeared in ― videos for a band event called "Fesler night" that contained inappropriate content, but failed to bring them to the attention of investigators. The videos featured a band member who was topless, sex jokes and, in one case, a female student simulating performing oral sex on two male band members while singing, the filing said.
It also details a harassment complaint brought to Waters in January by a female band member who said male band members were tweeting inappropriate, sexist and offensive comments while they sat in sexual harassment training.