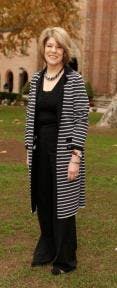 At the 10th Annual American Association of Hispanics in Higher Education's National Conference in March, Dr. Estela Bensimon will receive the Outstanding Latino/a Faculty in Higher Education: Research/Teaching (Research Institutions) award.
"I was very touched by this award because it signals in many ways acceptance by a community of Latino(s) and Latinas," says Bensimon, a professor of higher education and co-director of the Center for Urban Education at the University of Southern California.
Bensimon has worked hard to advocate for the Latino community. Her journey began in Patagonia, Argentina, in a town with a population of about 7,000. There were no televisions, so she became an avid reader, listened to series on the radio and frequented the movies to see American films on weekends.
At the age of 12, her family relocated to the United States, where her outlook on education changed tremendously. In Cherry Hill, New Jersey, she was the only Spanish speaker in her high school.
"Education went from being a place of fun, engagement and great enjoyment to a place of wanting to, in many ways, avoid it," says Bensimon.
She only applied to one school, Montclair State University, where she went on to receive her bachelor's and master's degrees.
While her greatest aspiration was to become a teacher, the state of the country led her down a different path.
"This was the '60s and the country was going through a major civil rights upheaval … I think that was the turning point for me," she says.
Urban education was a prominent focus in the movement, and Montclair State was one of the pioneers in the Teacher Corps Program. Her first teaching position was in Newark, New Jersey, a city experiencing an influx of Puerto Rican and Cuban immigrants.
As part of the Teachers Corps, Bensimon was also required to do community service and volunteered at a nonprofit that served Puerto Rican youth.
"I became much more educated in a critical sense in terms of understanding the nature of race, race relations and racial inequity, which I had not until that moment understood," she says.
For several years, Bensimon worked in the nonprofit sector, which would shape her work for years to come.
"Much of the work that I do now … in many ways harks back to my work in community organizations and the whole notion that you bring about change by involving people who are most impacted by conditions of inequity," she says.
While working as coordinator of bilingual programs at the New Jersey Department of Higher Education, Bensimon was encouraged by then Chancellor T. Edward Hollander to further her education.
She entered Columbia University's Teacher's College with a federal Title VII Fellowship.
"Getting my doctorate enabled me to go on and use both my knowledge and training to address issues … from an academic perspective and to be a mentor to others," she relates.
As a tenured professor at the University of Southern California, Bensimon started the Center for Urban Education in 1999.
While there is a national push to increase graduation rates at colleges and universities across the country, equity is often left out of the equation, she says. The purpose of the center is to conduct research and create tools that would enable institutions to enroll the highest concentration of students of color.
While most faculty members enter this position with good intentions, many may not know exactly how to go about it, Bensimon says, "so you have to provide opportunities for them to learn how to become more equity minded."
The center's flagship tool, The Equity Scorecard, seeks to address this issue. Participating universities select a diverse group of individuals from multiple departments to form a team. The group uses a theoretical framework, combining that with practical strategies that investigate campus data, practices and policies. Near the conclusion of the process, team members complete a ­scorecard, which evaluates the results.
For example, Bensimon says, "The Community College of Aurora in Colorado, which is participating in our scorecard, now has very specific goals for African-American students in terms of retention, credit completion and so on."
Data have also shown that faculty members who participate in the scorecard become more conscious of their teaching practices as well as their interactions with minority students.
The scorecard has also rendered outcomes in the hiring of minorities. "For 10 years, (the math department chair at the Community College of Aurora) never hired an African-American faculty member. Now he's doing the scorecard and his most recent hire included African-Americans and Latinos," she says.
Bensimon recognizes that her work in higher education has been made possible by a series of fortunate opportunities, concerned mentors and supportive colleagues.
"I have privilege, and with that privilege there needs to be a consciousness of how not (to) abuse it and how to be conscious that it shaped my life in a very different way than it does for others," she says.