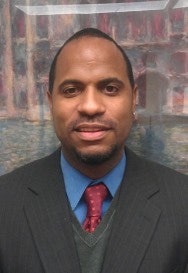 Dr. Derrick R. Brooms, a Diverse 2015 Emerging Scholar isn't quite comfortable with being called a scholar.
"I think of myself as an educational activist," says Brooms, an assistant professor of sociology at the University of Louisville. "At the end of the day, 'I am because we are.' I don't think of myself as a scholar because that's an individual concept. I don't think of what I am doing from an 'I' perspective, but a 'we' perspective."
Brooms' research, which trains a spotlight on the educational opportunities of Black males, has caught the attention of established scholars like Drs. James L. Moore III of ­ The Ohio State University and Chance W. Lewis of the University of North Carolina at Charlotte, who invited Brooms to contribute a chapter to their recent book on African-American males.
"I think he is certainly one of the up-and-coming emerging voices focused on African-American males in education," says Moore. "He brings a nice blend of having practical experience to his scholarship and I think he has a trajectory that is filled with unlimited potential."
Brooms' career path into the academy has been anything but traditional. After graduating from high school, the Chicago native enrolled at the University of Chicago, where he majored in African-American studies and began engaging with well-known sociologists like Drs. Mary Pattillo and Al Young.
"They were doing sociology," says Brooms, 40. "As I learned about their work, it appealed to me in so many ways."
After graduating from the University of Chicago, Brooms went south to Atlanta, where he took graduate-level classes in African and African-American studies at Clark Atlanta University, with the goal of solidifying his understanding about the history, struggles and triumphs of Africans in America and throughout the Diaspora.
Determined to earn a doctorate, Brooms struggled over whether to pursue a Ph.D. in African-American studies, ultimately settling on studying sociology at Loyola University Chicago. It was there that he had the chance to work with cultural anthropologist Ayana Karanja, who supervised his dissertation that focused on representations of African-Americans in museum exhibits.
"She helped me to learn how to develop a research project," says Brooms, who moved to Washington, D.C., after completing his doctoral course work and taught high school. Four years later, he returned to the Windy City, where he worked at the University of Chicago and later taught at Urban Prep Charter Academy for Young Men, coaching track and field and cross country as he finished writing his dissertation.
Working at the school for Black males, coupled with his work as a tutor at Chicago's infamous Cabrini-Green housing projects, "helped me to think about the nuanced Black male experience," he says.
Before arriving at the University of Louisville in 2012, Brooms worked as an assistant professor at Prairie State College, where he was active in the school's African American Male Initiative.
"A lot of folks talk about Black males, but not a lot of folks talk to Black males," says Brooms, who currently teaches a range of undergraduate and graduate courses including race and ethnic relations and social theory.
His latest research centers on the lived experiences of Black males, with a focus on their trajectory from ninth grade through college and graduation.
"It's important to be at the ground level with students," he says. "It's important that my teaching, service and research are all connected."
Now, in his third year as a tenure-track faculty member, he relishes the opportunity to inspire the next generation of thinkers.
"I absolutely love teaching," he says. "It makes sense. Every day I teach I have the opportunity to connect with students. It's an honor and a privilege."