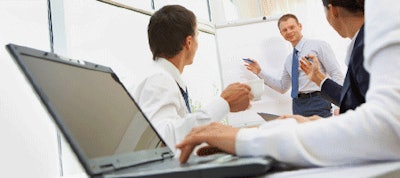 At the recent 75th reunion of my college radio station, WHRB-FM in Cambridge, Mass., I was struck how the campus had a Vietnamese food truck prominently serving lunch to a diverse crowd.
It wasn't "pahked" in Harvard Yard, but just outside by the Science Center.
If only that truck was around when I was there as a student.
I don't think I'm making too much of a demand.
A food truck serving Asian comfort food would have made me, a Filipino kid from California, feel right at home.
Asian anything would have helped. And a food truck. The university president could have parked it himself and driven it away by 2 pm.
Better still would have been something more lasting ― like an Asian American Studies Department.
Back then, I took courses in the Afro-American Studies department. There was no Asian American Studies Department, not even to this day.
And Asian American faculty members?
Are you kidding?
I would have been happy to have good profs who had tenure. Then I'd have a better educated shoulder to cry on at reunions. But none of my profs ever got tenure.
Would any of that really have made a difference? Then, or even now?
Fifty years after the Civil Rights Act, you'd think we'd have figured the answer to all those questions.
But if you've noticed how race is coming up again and again in student protests, it's clear, we're just recycling the past.
If you look at the demands of the student protestors around the nation, particularly the uproar at Missouri, a key demand continues to be the need for a diverse faculty.
Last week, Mother Jones published charts based on the diversity data universities are required to give to the Department of Education.
The most recent information comes from the 2013-2014 school year, and from reading it, you'd think we were still starting off 50 years ago.
The faculty is whiter than you'd think after all these years.
The Top Ten in Faculty Whiteness:
Dartmouth, 82.4 percent.
Vanderbilt, 80.9 percent.
Duke, 78.2 percent
University of Wisconsin, 77.9 percent.
Cornell, 76.6 percent.
Univ. of Minnesota, 76.4 percent.
Univ. of Florida, 76.1 percent.
Univ. of Texas, 76 percent.
Univ. of Missouri, 75.8 percent.
Univ. of Pennsylvania, 75.7 percent.
Considering the general population is just 62 percent white, the trend is clear.
Whites (as are males) are over represented, while Hispanics and African Americans are vastly underrepresented.
Asian Americans are over-represented by the general population of the nation. But not when you consider the makeup of the universities.
Harvard, for example, admitted a freshman class that was more than 21 percent Asian American.
The faculty there is just 8.1 percent Asian American.
Contrast that with a top public school like UCLA: Asian American population at 33 percent. Faculty, 22.2 percent.
And the gender numbers are the same-old-same-old.
Princeton, keeping up with that Wilson legacy, is 70 percent male.
Harvard is at 68 percent.
And then there's the University of Florida, very Ivy-like in its gender number: 67 percent male.
Thank goodness for the protesting students. They're on the frontlines. They live through it. And now it's going to take a lot more than a food truck to appease anyone.
The fact is, our universities could do a lot more to reflect not just the nation, but the students they currently serve.
Until that changes, higher ed continues to preserve an antiquated legacy of a mostly white, old boys' club.
Emil Guillermo is an award-winning journalist and commentator who writes for http://www.aaldef.org/blog and for NBCNews.com. Contact: www.twitter.com/emilamok ; www.fb.com/emilguillermomedia