The faculty union of the Pennsylvania State System of Higher Education went on strike Wednesday after contract negotiations remained at an impasse. The strike by the union, which represents 5,000 faculty and coaches, could potentially disrupt the school year of 100,000 students at 14 universities.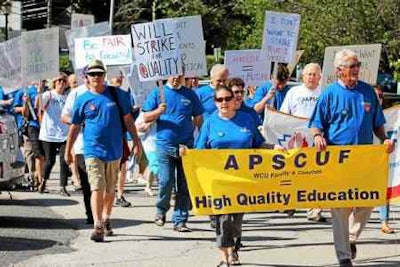 The union includes faculty from Bloomsburg, California, Cheyney, Clarion, East Stroudsburg, Edinboro, Indiana, Kutztown, Lock Haven, Mansfield, Millersville, Shippensburg, Slippery Rock and West Chester universities of Pennsylvania. Members of the union, which has worked without a contract since June 30, 2015, are not required to strike and as a result state government officials are encouraging students to continue to attend classes.
According to the state, each university has developed a response plan to a strike that will allow the campus to remain open and to keep students on schedule to completing their degrees.
Health care and who pays for it; and proposed raises for permanent and temporary faculties were two of the major stumbling blocks during talks that broke off early Wednesday morning. Further negotiations have not been scheduled. The Association of Pennsylvania State College and University Faculties, which has been in existence for 34 years, has authorized a strike before but faculty members did not end up walking out.
"At 11:35 p.m., we made a last attempt to negotiate through back channels," union President Kenneth M. Mash wrote on its website. "We waited until 5 a.m. We are headed to the picket lines."
Contributing: Associated Press