When there's a crisis on campus what does your institution's "war room" look like?
Is it even close to a perfect mirror of your campus community?
Let's hope it looks nothing like what exists in the White House.
To get a quick diversity index of real power in America, all you need to do is check out the picture White House Press Secretary Sean Spicer tweeted out last week.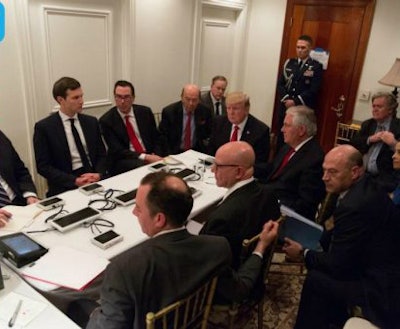 It's the president and his top aides admiring the decision to send missiles into Syria.
Whatever you think about that action (and I'll let you know mine in a second), let's just look at that picture first.
If you're like the president, a visual learner, now you know the answer to the question, "How White is the White House?"
Pretty darn White.
The picture is the look of White privilege, 14 people, all white males, except for one woman. She is Dina Habib Powell, an immigrant from Egypt, who became an extremely wealthy Goldman Sachs investment banker. Her connections have guided her to the position of deputy National Security Advisor.
She must be good at protecting money. Like all the others in the room.
It's clear, the key value prized by the president in this "war room," is not so much foreign policy, even though Secretary of State Rex Tillerson, the former Exxon head is there.
It's not even military. There were no generals there. Not even the secretary of defense.
At the table are the rich former investment bankers on Trump's team, like Commerce Secretary Wilbur Ross, and Treasury Secretary and Goldman alumn Steve Mnuchin.
And of course, the son-in-law, Jared Kushner, the picture of "white affirmative action," was present.  He's the one, who in a well-documented case, got into Harvard after his father made a big donation, and who by marriage to the president's daughter has become Trump's go-to man on everything from foreign policy to government efficiency, even though he has no experience in any of those things.
Do you have these kind people in your institution's "war room"?
If your war room looks different than the White House, then that's great.
It probably means there's also some healthy discussion on whether the U.S. should be involved in military action against Syria.
But this is the one set up at Mar-a-Lago last week. Admittedly they were the key administration players who happened to be at the weekend meetings with Chinese President Xi Jinping.
But since Spicer tweeted it, it must be the image the White House wants us all to see — of the American oligarchy in action, where wealth is everything, and your bank account is your IQ.
All you need to do is look at that picture to realize how important diversity is to the president of the United States.
Not very.
If you've been following the diversity struggle over the last 40 years or so, then you know that there's always been a debate over race vs. class.
Look at it like market forces. When consideration of race is up, diversity as a value is up throughout society.
But when class dominates over race, then diversity is down, and just about forgotten.
That's when people say, "At least Ben Carson is in the administration."
That White House picture is as clear an indicator as you need right now.
And pictures are everything to this president, a self-described visual learner.
It's why he chose to send his missiles into Syria, because of the pictures of all those "beautiful babies … cruelly murdered" by the chemical weapons attack earlier in the week perpetrated by Syrian dictator Bashar al-Assad.
Hard to imagine Trump crying over Syrian babies when he has had no problem saying no to Syrian refugee families.
So let's consider Trump's credibility. You can take the president at his word. But he's the guy without evidence who says President Obama wiretapped him.
He's the guy who has made attacks on the Obama Administration's Susan Rice, again without evidence.
And love for babies? Did Mr. America first show any love for the 24 million innocent people who would lose healthcare in a repeal of Obamacare?  Their only fault is that they are too poor to afford health care under any plan. Trump the humanitarian had no sympathy for any of them.
Overall, Trump's record in less than 100 days in office has been abysmal.
Trump lost in his bid to repeal Obamacare with a slapdash plan that had to be withdrawn. His hasty attempts to ban Muslim travel have been stopped twice. He would have had a Supreme Court pick denied but the Senate changed the rules.
Once again for Trump, privilege saves the day.
With his poll approval ratings dropping to 35 percent, I figure that Trump, always the showman and opportunist, saw a way to enhance his own stature and spike his ratings.
And he used Syrian babies as his cover.
To heck with the constitution and the War Powers Act. How do you save a dysfunctional l presidency? Cruise missile Viagra.
Look at that war room.
It's not a pretty picture for a democracy.
Emil Guillermo is a veteran journalist and commentator who writes for the civil rights group AALDEF at http://www.aaldef.org/blog