As a tenured professor at the University of San Francisco (USF), Dr. Richard Greggory Johnson III brings to the classroom an exemplary academic, professional and personal history that has shaped his passion for public policy, social equity and human rights.
His road to a career in higher education began as a child in the Bronx.
"I grew up with a great sense of education, not only from my parents but also from my older cousins who were ahead of me in school and most of whom went to college as well. It was family dynamic," he says.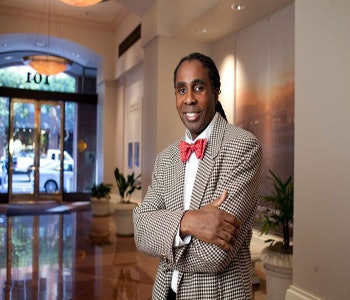 Johnson met many of his greatest motivators in undergrad at Johnson C. Smith University. He built lifelong friendships with classmates and encountered professors who sparked his interest in public policy and inspired him to eventually become the first person in his family to receive his doctorate degree.
Most importantly, he credits the historically Black institution with providing a supportive environment that prepared him for life's obstacles.
"I think you're stronger when you come out of an HBCU to deal with the racism and implicit biases that are oftentimes present at a predominately White institution," he says. "I'm so pleased that HBCUs are still doing their job by preparing young men and women to go out into the world and make a difference."
In 1987, Johnson received his undergraduate degree in urban planning and urban studies. After taking public policy classes at JCSU, he decided to steer his academic pursuits in that direction because "without good public policy, we can't have a civil society," he says. "It also seems as though for years now, communities of color and other disenfranchised communities oftentimes are the only ones left out of good public governance, so we need folks with a good background in public administration to make a difference."
Johnson pursued a master's in public service management at DePaul University. There, he pledged Alpha Phi Alpha fraternity, which he remains involved in to this day.
He also met Dr. Sandra Jackson, who recently retired from the university after decades of teaching, in addition to heading the Center for Black Diaspora.
Johnson and Jackson arrived at the Chicago institution around the same time. She was one of the only female African-American professors, he recalls. "I am so grateful and so blessed to have had her mentorship throughout those years and she's seen me rise in my career and has given me great advice. She's also been a sounding board."
Among other professional endeavors, the two co-authored a book called The Black Professoriat: Negotiating a Habitable Space in the Academy.
Johnson also has authored, co-authored, reviewed and edited dozens of other publications on human rights, cultural competence, women of color, the queer community and social justice, among other subjects.
But a "crowning moment" of his career, he says, came when he returned to DePaul decades later to present a paper per Jackson's request.
In 1989, Johnson graduated from DePaul. He then enrolled at Golden Gate University to complete a doctorate degree in public policy and administration, which he received in 1995.
He received more credentials at Georgetown University, where he graduated in 2000 with a master's degree in social and public policy.
Then, after building a career in higher education over the next decade, he won a Fulbright award in public affairs. For nine months, he taught at Hong Kong Baptist University and conducted research at Hong Kong University.
"It was probably one of the most rewarding professional and personal experiences I've ever had in my life," he says, noting that because he was one of few African-Americans in the territory, he received stares, requests to touch his dreadlocks and questions about whether he was an American celebrity.
People also responded to him "in a special way," he says, because of the Fulbright scholarship. "They know that you're like the cream of the crop of professors so there's already that sort of built-in admiration."
"If I had an opportunity to do a second Fulbright, I absolutely would because it does deepen your understanding — not only of your discipline but also just culturally," he says.
Back in the United States, Johnson uses all of these experiences to connect with students. And he describes his style of teaching as Socratic, "which is easy for Black folks and communities of color to understand because we come out of the Black church."
In terms of coursework for his students in USF's Master of public Administration Program, he pushes the fact that "not every policy is good and not every public servant can make good policy, therefore, it takes someone with the training, the education and also the passion."
Johnson also facilitates pro bono workshops and lectures in the community so as not to "live in a bubble or be in an ivory tower" as a professor. "My goal has always been to eliminate that perception — especially as an African-American tenured full-professor. I don't have that luxury … nor do I want that," he says.
Still, he continues, "My students are my greatest legacy …. They may forget about me in 5, 10, or 20 years, but as long as they remember what I tried to teach them, I can't ask for anything more than that."