Growing up in Visitacion Valley — a working-class neighborhood in San Francisco — Dr. Tiffany Ng developed an early interest in music, though she had never actually planned to be a musical performer.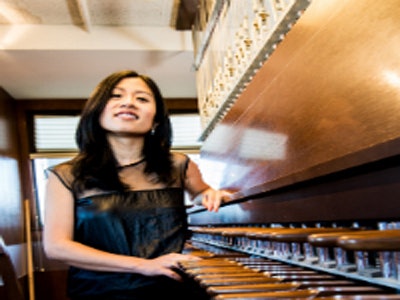 "I begged my family for music lessons since I was maybe four years old, but they didn't have enough money to start me on piano until I was almost 10," says Ng, the daughter of economic migrants from Hong Kong and China, who now teaches carillon at the University of Michigan, where she also serves as the university carillonist. "The fact that I almost missed the chance to study music is another reason I'm committed to creating more equal opportunities for University of Michigan students of all socioeconomic backgrounds to study carillon with me."
Ng, 34, is a rising superstar within the academy.
As an assistant professor who arrived at Michigan in 2015, Ng has carved out a reputation as both a master teacher of carillon and an international performer of the rare 12-ton instrument that has at least 23 bells, is usually housed in a tower and is played from a keyboard and pedalboard.
Although international interest in the carillon is clearly on the rise — evident in the fact that Michigan is the only institution in the world that offers a master's degree to study the instrument — there are only about 180 carillons in North America and about 600 in the entire world. And many Americans are not particularly familiar with the instrument.
Still, the rising fascination with the carillon is encouraging, says Ng, who has been on a mission to encourage more minorities to take up the study of the instrument since she was encouraged to study it as a student at Yale University. She has since witnessed an influx of East Asian female students, "who see me as a mentor and really want to connect with me," she says.
Studying carillon historically has been reserved for the more privileged. Even at Michigan, students have to pay an extra course fee for the private one-on-one lessons they have with Ng.
Ng says she is committed to removing the financial barriers that keep low-income students — particularly African-American students — from studying the instrument. In this regard, she has been fundraising to help provide assistance to those who want to learn the craft.
"The bell towers are symbols of our campus and should be accessible to all of our students," says Ng, who earned her bachelor's degree from Yale in 2005 and completed a doctorate in musicology from the University of California, Berkeley, in 2015. She also earned a master's degree from the Eastman School of Music. Prior to landing her current position at Michigan in 2015, Ng was a visiting instructor of music history at St. Olaf College in Minnesota.
Thinking back to her humble roots, she says the transition from San Francisco to Yale wasn't easy.
"Yale changed my life in incredibly positive ways. I was empowered as a leader, explored subjects I never imagined existed, made friends from all places and walks of life, developed my commitment to equity of educational opportunity, and of course, learned to play carillon," recalls Ng. "But I felt survivor's guilt for enjoying opportunities that some of my childhood classmates, evicted from their homes when San Francisco razed their housing projects, would probably never see. For that reason, I'm really glad to be working at a public university."
That commitment is evident in her day-to-day work. She has launched an initiative to diversify the carillon repertoire and recently commissioned a piece of work from an African-American composer.
In addition to her teaching load, as university carillonist, Ng provides performance recitals twice a week to the public, playing the grand concert-size instrument that was donated to the university by Charles Baird, an alumnus who would later serve as Michigan's first athletic director.
In 1936, the university constructed the Burton Tower that currently houses the instrument. Sixty years later, the university received a second carillon.
"The performance part is really meaningful," says Ng, who spends most of her summers traveling the globe, where she conducts concerts throughout Asia and Europe. "It's amazing to be given the keys to historic bell towers all around the world and to share music with everyone," she says.
An active member of the Guild of Carillonneurs, Ng is involved with the current trends. There are about 180 carillon positions in North America and most of those are part-time or volunteer jobs. In Ann Arbor, about 35 miles from Detroit, the significance of the carillon is revealed every day at noon when locals hear the bell chime.
"A person doesn't study carillon expecting to find a job," says Ng. "I just lucked out coming straight out of graduate school."