A Harvard University tenure case has caused outrage among ethnic studies scholars.
On Monday, over 200 faculty from across the U.S. – and beyond – sent a letter to Dr. Lawrence Bacow, Harvard University's president, criticizing the decision to deny tenure to Dr. Lorgia García Peña, a Latinx studies scholar. Signatories included famed authors like Angela Davis and bell hooks.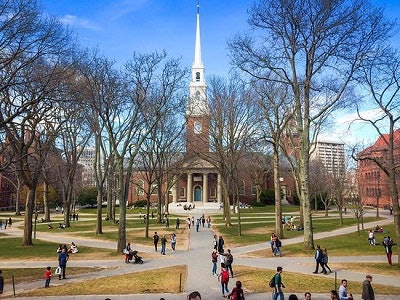 García Peña, the Harvard University's Roy G. Clouse Associate Professor of Romance, teaches courses on Latinx studies, Hispanic Caribbean literature and culture, performance studies, race and ethnicity, transnational feminism, migration, human rights, and Dominican and Dominican diaspora studies, according to her faculty bio.
The letter calls García Peña an "internationally-recognized leader in Latinx Studies and Dominican Studies" and critiques the university for undervaluing these fields. It also describes her tenure rejection as a setback to attracting "top talent" in Latinx scholarship, counter to Harvard University's diversity goals.
The faculty letter comes after students protested on García Peña's behalf, holding a sit-in at University Hall on Dec. 2 and a silent protest at a faculty meeting the next day where students held up signs with messages like "Want diversity? Teach our histories." They also sent an open letter of their own, which 200 students and 30 student groups signed, according to the student newspaper, the Harvard Crimson, alongside a separate letter from other Harvard affiliates. The fight for García Peña's tenure started as early as last spring with a student letter-writing campaign in favor of her case.
García Peña's book – The Borders of Dominicanidad: Race, Nation, and Archives of Contradiction – won several prizes: the 2017 National Women's Studies Association Gloria E. Anzaldúa Book Prize, the 2016 LASA Latino/a Studies Book Award and the 2016 Isis Duarte Book Prize in Haiti and Dominican Studies. Her current research project, Translating Blackness: Migrations and Detours of Latinx Colonialities in Global Perspectives, studies how Black Latin American migrants engage with race. She also co-founded Freedom University in Georgia, which prepares undocumented students for higher education.
Dr. Ginetta Candelario, a Smith College professor who teaches sociology and Latin American and Latina/o studies, said she's "truly stunned" by the outcome of the tenure case as someone "very, very familiar" with the full breadth of García Peña's scholarship, as well as her service work. She first met García Peña at a conference 12 years ago.
Harvard's decision was "on the face of it, inappropriate," Candelario said. "Just not matching her record at all."
Candelario noted that García Peña's case points to larger problems in today's tenure track for ethnic studies scholars.
Tenure is designed to ensure academic freedom, "to protect unpopular intellectual endeavors, such as writing about sexism or racism or imperialism or misogyny or homophobia," she said. Yet she sees a general correlation between more women of color entering academia, and universities increasingly relying on adjunct faculty with less professors achieving tenure.
Meanwhile, for ethnic studies professors, the tenure process itself is fraught. According to Candelario, Harvard requires eight to twelve external reviewers for tenure candidates, while other institutions mandate three or four. But there are so few full professors in ethnic studies, let alone in a scholar's exact area of expertise.
"We're unicorns," she said.
The full professors who do exist in ethnic studies are barraged with review requests and struggle to keep up with demand. Candelario, who became a full professor two years ago, has done four reviews this year alone, which can involve reading thousands of pages of scholarship. So, ethnic studies professors up for tenure can end up with reviewers who don't know their field well or reviewers who feel "discomfort" with the work based on their own implicit biases.
"Our institution building work is explicitly meant to transform it, to change a place, to make it not your father's university," she said. "To make it my child's university, my grandchild's university, a place where they're going to feel comfortable and welcome and understood."
Dr. María Elena Cepeda, chair and professor of Latina and Latino studies at Williams College, said the fight for García Peña's tenure is also about ethnic studies being relegated to "second-class citizenship" in academia in general, despite "rich bodies of scholarship."
Universities still have an uneasy relationship with ethnic studies, Cepeda added, as a field with nontraditional origins, born out of "student agitation and unrest" in the '60s and '70s.
These fields "were always meant to critique institutions," she said. "Ethnic studies takes for granted the notion that knowledge production is never neutral."
She also pointed out that ethnic studies is interdisciplinary by nature, which can run against the grain of how departments are set up. She herself was trained in a Spanish department and took her first job out of graduate school in a Spanish department. Some of her colleagues "scratched their heads" at her work.
"I was studying these racially marginalized populations in ways they never had," she said.
Meanwhile, most ethnic studies fields are predominantly made up of minority faculty, who perform extra "emotional labor" as tenure-track professors, mentoring students of color.
In García Peña's case, she doesn't think Harvard will bend because of the faculty letter, but it may listen to its "customers," students.
Nonetheless, "I'm proud of my colleagues for speaking out," she said. "This is not the first time this has happened and it is not the last. And I think we just need to keep up the pressure. This is at the heart of what ethnic studies is all about, the claim that the type of knowledge that comes out of minoritized community is valid."
Sara Weissman can be reached at sweissman@diverseeducation.com.