Dr. Siduri J. Haslerig
Title: Associate Professor and Associate Dean for Research and Graduate Studies, University of Oklahoma
Education: B.A., sociology of education and English literature, Swarthmore College; M.A., Higher Education and Organizational Change Division, University of California, Los Angeles; Ph.D., Higher Education and Organizational Change Division, University of California, Los Angeles
Age: 36
Mentors: Dr. Walter R. Allen, advisor and co-chair, University of California, Los Angeles; Dr. C. Keith Harrison, co-chaired dissertation, University of Central Florida
Words of encouragement/wisdom: "Listen to others and seek advice, but also listen to your intuition. Cultivate your understanding of which fights matter and learn how to effectively navigate those fights in your context."
For a brief period of time when she was very little, Dr. Siduri Haslerig's parents fostered youth in a group home, "the stop before juvie," says Haslerig. While they stopped fostering when Haslerig was six, the memory of institutional inequity stuck with her.
"My awareness of state systems started early and the ways that they were failing people," said Haslerig.
As she grew up, she became more and more fascinated by education, spending, as she put it, "a ridiculous amount of time reflecting on how to get to college." That passion became her study, and, by the time she finished her undergraduate degree, she was already enrolled in a master's program.
But she found herself grinding to a halt.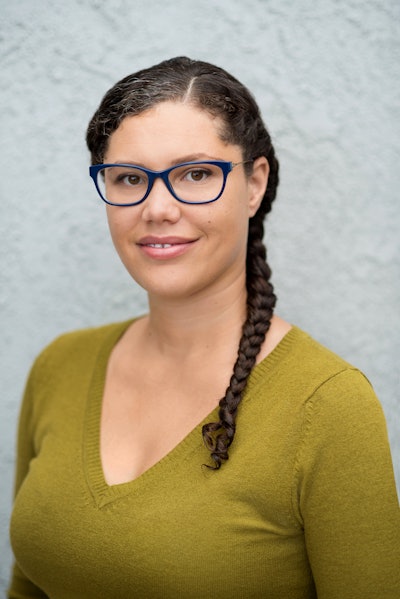 "I kept hitting these walls around how much we already knew and how much research there was," said Haslerig. "You're still finding the same problems. I felt like whatever research I produced wasn't going to add or grow in a new direction."
But then, one of her cousins, who was playing Division I football, started working toward his master's degree while still playing on his team. Haslerig had never felt particularly drawn to athletics before, but questions started springing into her mind, "What is that like, to be on the same team, with the same peers, while going through this huge academic transition? How did you make the decision to do it, and what supported it?"
"So, I started thinking about those circumstances and [ended up] doing the first study of graduate student athletes," said Haslerig.
Adding athletics to her educational knowledge took deep effort. She dove deep into the sociology of sport, and she was pleased to discover a field of research that felt more responsive to change.
"I felt there was an opportunity; I felt like I had questions to ask and points to bring up that were adding something," said Haslerig.
In 2014, her research brought her to the Jeannine Rainbolt College of Education at the University of Oklahoma (OU), where she has overseen and grown the concentration in Intercollegiate Athletics Administration (IAA) program as associate professor of adult and higher education at OU. As of January, Haslerig will become associate dean for research and graduate studies at Rainbolt.
Dr. Kirsten Hextrum, an assistant professor of educational leadership and policy studies, said that, under Haslerig's guidance, the IAA program has transformed from one that centered business to one that centers development, education and justice.
"Sports are the most visible part of a campus, but the most understudied and underappreciated as a line of scholarly inquiry in the academy," said Hextrum. "[Haslerig] has, every step of the way, tried to bridge these fields of higher education and sports sociology. And at the center of that, she's always studying intersectional issues of race, class and gender from a scholarly perspective."
Haslerig goes out of her way to find connections within the community, build relationships and strengthen the program, said Hextrum, all while taking on extra administrative duties that were asked of her.
Leadership and mentorship duties would inevitably take time away from research, and Haslerig worried that it could negatively impact her track toward tenure — that was what colleagues were telling her, at least. But ultimately, she decided that counting research wasn't as important to her as the opportunity to mentor graduate students and faculty, and, in 2020, she received tenure.
"Watching careers take off has been more meaningful for me than when I publish something," said Haslerig, who hopes her research will help make college a less oppressive space. In her new role as dean, Haslerig will endeavor to make the academic experiences of those around her better.
This article originally appeared in the January 20, 2022 edition of Diverse. Read it here.