Dr. Cristina A. Thomas
Title: Assistant Professor, Department of Astronomy and Planetary Science, Northern Arizona University (NAU)
Education: B.S., planetary science, California Institute of Technology; Ph.D., planetary science, Massachusetts Institute of Technology
Age: 39
Mentors: Dr. Andy Rivkin at Johns Hopkins Applied Physics Laboratory; Dr. David Trilling, Dr. Josh Emery at NAU
Words of encouragement/wisdom: "Find your support network and use them, don't lose them. Foster relationships with people who can help you get what you're looking for."
For as long as she can remember, Dr. Cristina Thomas has thought that planets were amazing. As a kid she would stare wide-eyed at full color photographs of Uranus and Neptune, wondering what it was like on those distant spheres. Now an assistant professor of astronomy and planetary science at Northern Arizona University (NAU), Thomas is about to make contact with an alien world.
Thomas is a team lead on NASA's DART mission, Double Asteroid Redirection Test, launched on November 24, 2021. In two years, it will reach an asteroid pair — the probe will purposely crash into one to see if the force will push the asteroid in a new direction. If successful, a version of DART could one day be used to protect Earth, should an asteroid or comet come too close.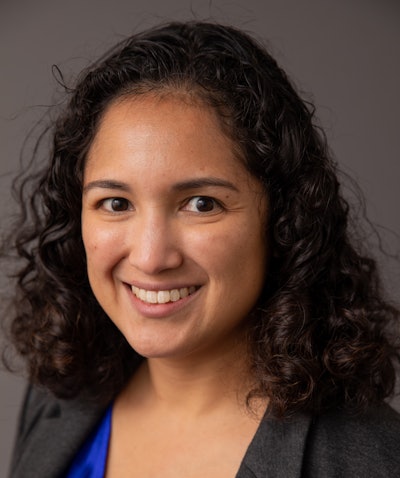 If the impact goes as planned, Thomas will observe it using the James Webb telescope, the long-awaited upgrade to the 1990 Hubble space telescope. Thomas is what NASA calls a "Guaranteed Time Observer" for the James Webb telescope, meaning she will be one of the few allowed to use the lens after it is launched and placed into orbit in December, allowing her to see some of the clearest images of stars, galaxies and asteroids yet.
These successes are the realizations of years of dedication and a testament to Thomas's steadfast pursuit of knowledge, despite her uneasiness in the world of academia.
"I felt everyone else had this from-birth knowledge, they knew who to ask. Every time I have to make a big decision, I'm just looking around like, what is the right choice?" she says. "I have to really, really take time out to pause and think about what I want to do next, what are my career goals."
That feeling still follows her, she says, even after 20 years in academia, made more complicated by the fact that she is a Latina woman in a space dominated by White men. At conferences, she often feels out of place, finding herself more comfortable with catering staff than her peers because "they were nicer to me."
But these struggles have become a little easier to bear over the years, because Thomas has built a strong network of mentors, friends and colleagues who share her experiences. She runs the Planetary Scientists of Color group, a mailing list with a growing number of diverse, young scientists, many of whom are graduate students.
"I told myself that one of the reasons to make it through [grad school] was just so other people would see that I was there, to grow the community, to realize [they] can do it too," says Thomas.
Dr. David Trilling, professor and chair of the department of astronomy and planetary science at NAU, says Thomas is a role model for many young scientists of color who come to Northern Arizona.
"Our students, undergraduate and graduate, can see that you can be a successful astronomer and a Hispanic woman," says Trilling. "Twenty-six percent (26%) of our student body is Hispanic, and we're 60 to 65% female. She's majority in terms of students present in our university."
"She's an all-star in our field," Trilling says. "Not just her research, but her attention to her students, and her commitment to community. She's leading aspects and projects in our field that will be super impactful. In ten years, she'll be a pillar in the astronomy community."
This article originally appeared in the January 20, 2022 edition of Diverse. Read it here.