Dr. Jerlando F. L. Jackson—one of the nation's most prolific educational researchers—has been tapped to be the next dean of the College of Education at Michigan State University. He is the first African American to hold the post at MSU.
Jackson—who is currently the Rupple-Bascom Professor of Education and the Vilas Distinguished Professor of Higher Education at the University of Wisconsin-Madison—will also hold the title of MSU Foundation Professor of Education when he arrives to the land-grant university in July.
"Michigan State University's history of acknowledging Black leadership through senior-level appointments was a key part of my decision making," said Jackson, who in addition to his faculty role at the University of Wisconsin-Madison, currently serves as the chair of the Department of Educational Leadership and Policy Analysis and is the founder, director and chief research scientist of Wisconsin's Equity and Inclusion Laboratory (WEI LAB).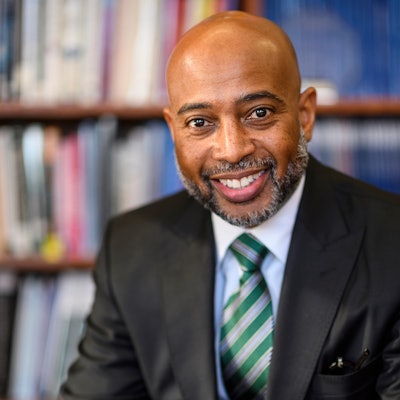 "Whether you go back to 1970 with the appointment of Clifton R. Wharton as the first Black president of a major U.S. university or to recent hires such as Linda S. Greene as dean of the College of Law, or Alan Haller as vice president and director of athletics, I found comfort in my decision to step into leadership of one of Michigan's State's most prized academic colleges," he said.
Greene said that Jackson's "commitment to collaborative research, his commitment to inclusive excellence, and his commitment to mentoring the next generation of diverse education scholars," is a major win for MSU. "His presence and his networks will enrich Michigan State University. "
A graduate of the University of Southern Mississippi and Auburn University, Jackson earned his Ph.D. in Higher Education from Iowa State University and joined the faculty of the University of Wisconsin-Madison in 2000, becoming the first African American faculty member in his department.
It was as a young faculty member that he began to carve out a name for himself, emerging as a national authority on a diverse set of topics including hiring practices, career mobility, workforce diversity and workplace discrimination,
Jackson has authored or co-authored six books, produced more than 125 research publications and has delivered more than 250 research papers. He was recently elected a fellow of the American Association for the Advancement of Science and co-founded the Colloquium on Black Males in Education with Dr. James L. Moore III of Ohio State University.
"A prolific scholar and national leader in higher education, Dr. Jackson also brings with him an impressive history of garnering significant sponsored research," said Dr. Teresa K. Woodruff, provost at MSU. "His academic excellence and commitment to advancing the field of education will create momentum within and for our College of Education, and in support of broader university aspirations."
Dr. William F. Tate IV, president of Louisiana State University agrees, adding that Jackson's leadership contributions include building a professional development program that fostered a new generation of social scientists studying education.
"He created more than a professional development experience," said Tate. "His effort morphed into a network of scholars. I view Jerlando as one of the country's important scholars and leaders in the field of education. His appointment at Michigan State University represents a milestone moment for their institution."
In an interview with Diverse, Jackson pointed out that The College of Education at MSU has an impressive, long history of being ranked number one in various programs and has been successful in attracting world-class scholars, all the while building highly regarded centers and institutes.
"However, during our conversations they talked mostly about the quality of their in-classroom instruction, the purposeful pathways they create for students, and the projects they have embedded in the communities and counties across the state," he said. "I walked away thinking this this group understands that the only rankings that matter is the one in the hearts and minds of the citizens across the state when they think of who to look to when they need help with educational challenges. It was clear I was in the right place.
Raised in Fort Benning, Georgia, Jackson has been lauded for his steady mentorship emerging scholars, like his former student—Dr. LaVar J. Charleston, who is the deputy vice chancellor for diversity & inclusion, vice provost and chief diversity officer, and Elzie Higginbotham Director of the Division of Diversity, Equity, & Educational Achievement (DDEEA) at the University of Wisconsin-Madison.
"Dr. Jackson's impact in the field of higher education has been nothing less than remarkable and significant," said Charleston. "His attention and commitment to organizational and inclusive excellence make him the quintessential colleague, mentor, and leader. There is no doubt that his leadership as dean at MSU will further build on the stellar quality of education and education-related products from the College, the university as a whole, and the field of higher education."
Dr. Sheneka Williams, professor and chairperson of the Department of Educational Administration in the College of Education at MSU said that she was "elated" that Jackson would be the first Black dean of MSU's College of Education.
"Dr. Jackson brings a combination of strong leadership, stellar scholarship, and innovative thinking to the role," she said. "As a member of the college's leadership team, I look forward to working with and supporting Dr. Jackson in this role."
In 2014, Diverse profiled Jackson along with four other prominent Black male academicians who have been friends and collaborators for more than 20 years. Like Jackson, they all had endowed professorships and used their platform to call attention to the plight of Black males in academe.
Jackson "is one of my dearest friends and colleagues in the academy," said Moore, who is vice provost for diversity and inclusion and chief diversity officer at Ohio State University. "Michigan State University has hired one of the nation's top higher education scholars, who I believe will add tremendous leadership value to the institution. Trust me, Dr. Jackson will help take MSU's College of Education to the next level. Indicative of his past successes. He is a winner."
News of Jackson's scholarly accomplishments has won him widespread accolades both in the academy and at the K-12 level.
Dr. Carlton D. Jenkins, superintendent of the Madison Metro School in Wisconsin hailed Jackson as a "transformational educational leader," and one of the "preeminent scholars of this generation."
"Dr. Jackson's teaching as well as mentorship has sharpened perspectives on equity and inspired human decency in students, colleagues, researchers, educational practitioners, and policymakers," said Jenkins. "He is well positioned to continue and elevate pathbreaking work in the next stage of his professional journey as the dean of the College of Education at Michigan State